Monday, December 29, 2008
Name: Anna Waskowski
Age: 19
Sign: Pisces
Hometown: Chicago, Ill.
Time in Lawrence: 4 months
Occupation: Student at KU, and lead singer for The Adventure Squad
What were you doing when scouted? Getting some bread sticks and smoking some turkish royal.
Favorite places? Social Service League, Wild Man Vintage, the Sunflower House, Henry's, and The Link.
How would you describe your style? Boyish
Where do you get your hair cut? I cut it myself
Favorite trends? I really like high-waisted skirts, and moccasins, and I wear leggings pretty much all of the time.
Least favorite trends? Ugg boots are so ugly, and I really hate Coach purses. I also get sick of seeing KU t-shirts all the time.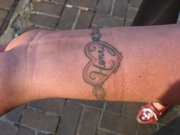 Tattoos/piercings? I have three tattoos and gauges. I have a locket on my wrist with my grandpa's name on it, which I designed myself.
Favorite coffee shop? I like going to Henry's, because I can sit there with my computer for hours and there are always cute boys to stare at.
Favorite hangouts? I go to a lot of shows, so I like the Jackpot. I also hang out at Solidarity and the Sunflower House.
What would you like to see more of in Lawrence? I'd like to see more tattoo shops, and more co-ops around here ... there definitely aren't enough.
What would you like to see less of? Less bros and less frat houses on Tennessee Street ... mainly because you can't ever park there.
Who are your fashion influences? Tom Waits, Devendra Banhart, and Leslie Feist.
People say I look like: The Basketcase girl in 'The Breakfast Club' - Ally Sheedy. Since I dyed my hair red, I also get compared to Molly Ringwald. Last night at a party, a guy said I look like the girl version of Buddy Holly.
Tell us a secret: I probably drink about two liters of soda a day. I'm obsessed with Vanilla Coke.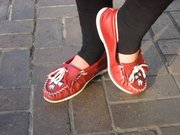 PRICE OF CLOTHING:
shoes: Minnetonka, purchased at Wildman Vintage 2 months ago for $14
leggings: I'm wearing two pairs right now, one is from Target and the other is from Creation Station
t-shirt: Found in a dumpster behind the Social Service League, 1 month ago
gauges: Creation Station, purchased at various times, $14 each
glasses: Wildman Vintage, purchased 1 month ago for $9
More like this story on Lawrence.com