Lawrence natives Ethan Shaftel and Alec Joler first got the urge to collaborate on a film together while in eighth grade.
Their rather unlikely subject was Armenia - the project intended to fulfill an assignment in their geography class.
"We turned it into this 'epic,' with our attempt at massive battle scenes on the slopes of Azerbaijan," Shaftel recalls. "We called it 'Armenia: The Land, The People, The War.' That was just for school, but the relationship we had immediately turned into doing more work not related to school."
Within a year, the teenagers had already completed their first narrative film, "The Cult."
The plots and special effects have gotten more sophisticated in Shaftel and Joler's work since then, but their partnership remains the same.
Today, they are premiering their feature-length film "Suspension" at Lawrence's Liberty Hall, 644 Mass. They share directorial credit on the effort.
Joler describes the picture as "a sci-fi stalker thriller. But basically it's the story of the descent into madness of
one man through his power to stop time."
Shot primarily in Lawrence during the fall of 2005, "Suspension" tells the tale of Daniel (Scott Cordes), who loses his family in a car accident. Afterward he realizes his son's video camera that was damaged in the crash has developed the ability to stop time at the press of the pause button.
The discovery allows him to take responsibility for another victim, Sarah (Annie Tedesco), a young schoolteacher who lost her husband in the same car accident. At first Daniel uses the power to improve Sarah's life in small ways. But soon the gift becomes an addiction, and his loneliness and isolation leads him on a path of corruption.
The project has already appeared at a handful of high-profile festivals (winning an award at the 2007 Ft. Lauderdale International Film Festival), and is being widely praised for its flabbergasting use of special effects.
"It's not that these are effects you don't see on other films or they're better, but that people have a hard time imagining how a low-budget film could go out and execute this," Shaftel says.
Cause and effects
It's hard to ignore the precision in which "Suspension" creates the illusion of arresting time. Daniel will often walk through a scene while objects are suspended in mid air - water spraying from a shower head, tennis balls in flight, a cheerleader doing a flip - then press a button to return the environment to normal.
"The average viewer will be surprised at how simple and straightforward our methods are. And we often use the same method again and again," Shaftel explains.
The co-director says it was necessary during shooting to replicate time stopping as best as possible, so as to limit the necessity for post-correction effects.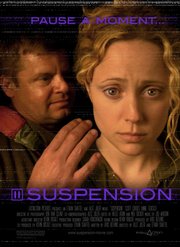 He offers the film's centerpiece car accident as an example.
"Those are two real cars simulated in the crash that we jack up and support, so it's creating this shape already. The footage looks very close to what the final shot does, it's just then the artists go back and (digitally) remove the jacks and enhance it by adding skid marks and extra broken glass," he says.
In other scenes, the filmmakers froze a portion of the frame, then had the actors respond to rigged objects supported by wires or poles that were removed in post production.
The constant necessity to interact with effects - which appeared in a whopping one third of the finished film - proved challenging for the cast.
"It was difficult because I often had to stand still, without blinking, for as long as it took for everything else in the environment to stop moving," says lead actress Tedesco. "Things like my hair, or fabric being blown by the breeze or even fog can take a really long time to become still."
Striking a balance
Tedesco - a Lawrence native now based in Los Angeles - calls working with the filmmaking tandem an appealing process.
"Ethan and Alec each have their own strengths, and they complimented each other really well. I liked being able to get two different viewpoints for certain scenes," she says.
As far as their division of labor, Shaftel also co-produced the movie and wrote the original story (the screenplay was penned by Aris Blevins). Whereas Joler is credited as a co-cinematographer.
"In every project we do together, I learn more about what works for us, and who else we need on our team," says Shaftel, a graduate of the American Film Institute and USC film school.
"At this point we have a very effective way of breaking down roles. Alec is very visual and a talented artist, and he uses the camera like no one else. He composes shots and has the sense of how the camera moves in the space of the character."
Joler adds, "I'm mostly the visual guy. He's mostly the logistics and working with actors. He's really organized and level-headed, and I'm not at all. We balance each other out quite well."
Both men are now living on opposite edges of Los Angeles (Joler having just moved there from Lawrence in November). Despite assumptions to the contrary, the 26-year-old filmmakers claim it is sometimes easier to make a movie in their Kansas hometown than in Hollywood.
"The main difference is the excitement the community has for the work. In Los Angeles, the community is sick of having film trucks and noise from the set. Because of that there's a well-established moneymaking opportunity for anyone to film in your yard or business. Ask anyplace and they'll say, 'Our filming fee is $3,000.' That can be stifling when you don't have the resources of a big movie. In Lawrence, they don't see the production as an annoyance as much as an interesting event. Like a restaurant would probably never dream of charging you for filming there, as long as you don't break anything," Shaftel says.
Fast forward
Shaftel affirms he is close to signing a DVD distribution deal with a "well-known studio." Otherwise, "Suspension" is unlikely to be issued to theaters.
"Without a cast recognizable to the public, there is very limited potential for a national release," he says.
Perhaps if he only had the power to hit that magical pause button.
"If I could stop time, the first thing I'd do is sit down and work out the moral implications of everything that is possible," Shaftel says. "The next thing is I would put up 'Suspension' movie posters all over every city in America."