DON'T RAISE ME, BRO!
City Manager Dave Corliss declined a raise in his salary last week, citing his concern that such a raise would be inappropriate amid Lawrence's fiscal problems.*: "And I'm sure that my colleagues in the Lawrence City Commission will join me in this show financial humility," added Corliss. His body was never found.
TEARS FOR SPEARS
Britney Spears was again committed to the psychiatric ward of a hospital last week, the second time in a month she has been forcibly compelled to seek help. This most recent psychiatric hold has been described as an intervention by her family following increasingly erratic behavior from the pop star.*:Amy Winehouse, when reached for comment, wondered what all the fuss was about and then snorted an entire, live hobo on camera.
COAL & VOID
Kansas congressional leaders last week introduced legislation that would allow the construction of two coal-fired plants in western Kansas. If passed, it would overturn a decision by the administration of Gov. Kathleen Sebelius, which rejected the plants based on concern over their environmental impact. The sponsors of the bill-who received input from the plants developers, Sunflower Electric Power Corp.-argue that it is compromise legislation since it also includes new carbon emission standards.*:Supporters say the "compromise" is a win/win, both for those who have a financial stake in Sunflower Electric and those who really enjoy coughing up wads of bloody sputum.
DEPRESSED INTO SERVICE
KU's Clinical Psychology program is working on a research study examining the cognitive processes of depressed versus non-depressed persons and are looking for participants without a history of depression to volunteer. The study will pay $12 an hour, with about 10 hours required over the course of the study. Those interested in participating can contact study organizers at 785-864-4274 or stroupe@ku.edu*:The organizers would very much appreciate help from the community, as finding non-depressed Lawrencians following the KU/K-State game is nearly impossible.
ELECTIONEERING BOOGALOO: ONGOING COVERAGE
The presidential primary field narrowed last week with the departure of Republican Rudy Giuliani and Democrat John Edwards, both of whom had yet to win a caucus or primary. Giuliani has already endorsed John McCain, but Edwards has not indicated if he will endorse a Democratic candidate.*:Barack Obama and Hillary Clinton both scrambled to woo an Edwards endorsement. Obama praised Edwards' campaign and tireless efforts on behalf of the underprivileged, and Clinton hinted she may release Edwards' children from the dungeon. Rudy Giuliani urged supporters not to cry, valiantly promising to "continue exploiting horrific tragedy for my personal gain no matter what."
THE BOWL IS FLUSHED
The New York Giants defeated the New England Patriots 17-14 in a stunning Super Bowl upset on Sunday. Giants quarterback Eli Manning engineered a game-winning drive with only 35 seconds left in the game, denying Tom Brady's Patriots an undefeated season and a fourth championship.*... Although he was denied another Super Bowl ring, Brady can take comfort in being named the NFL's Most Testicle-Chinned Player for the seventh year in a row.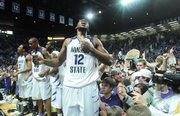 KILL STREAK
The KU men's basketball team's undefeated status came to an end last week at the hands of Kansas State. The 84-75 loss also ended KU's 24-game winning streak on K-State's home court.*:Many commentators attributed the upset to KU's seeming overconfidence, pointing to the Jayhawks' arrival in Manhattan upon the shoulders of Persian slaves and their proclamation that "three-pointers will blot out the sun." K-State defiantly responded, "Then we shall rebound in the shade."
APOCALYPSE CHOW
Swiss outdoor and camping goods maker Katadyn recently unveiled a cheeseburger in a can. Preparation consists of boiling the can for a few minutes and then eating the burger fully formed out of said can.*:Other products from Katadyn include Taco Bar in a Tube, McRib Cream, and Ultimate Deep Dish Pizza Suppositories.
More like this story on Lawrence.com