A dead bird as white as fresh lard lay along the sidewalk on Seventh Street.
An old woman engaged a stranger in political conversation at Round Corner Cheese & Salami Shoppe.
A female KU student walked downhill on 14th Street with the coldest, pinkest face the viewer had ever seen.
Lawrencian Sheri Martin plays guitar and sings at a Mexican cafe/bar in Nanjing, China, on Fridays and Saturdays. She goes to school in Nanjing, getting her master's degree in international relations through Johns Hopkins University's Paul H. Nitze School of Advanced International Studies.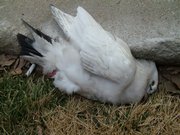 The owners of the Mexican cafe/bar know lots of people, and this has resulted in a couple of interesting episodes for Martin. Last summer, through their networking, she landed a role as an extra in a Chinese movie. She played a secretary. Then, a couple months ago, a provincial TV station contacted her wanting to do a news story on her singing gig.
"They just wanted to do an interest story on, I guess, 'Foreign girl in China,'" says Martin, who is back in Lawrence for winter break.
The news crew came to her apartment somewhat unexpectedly. After reminding her not to badmouth the government, they taped her sitting on her bed, and petting her cat, and doing stuff on her computer. Then they went outside and taped her singing a Chinese song called "These Flowers."
Then they went around and asked acquaintances of hers what they thought of her singing. "So, do you think Sheri's a good singer?" Martin recalls the reporter asking. "Oh yeah," the people responded.
"They weren't worried about it being artificial," Martin says. "They just wanted it to be super-positive and happy."
In other news, Martin is now dating the reporter.
- All facts in this story are real. Got a breaking news tip? Email Frank Tankard. His secretary will page him.
More like this story on Lawrence.com