Things began a year ago when a small group of young Lawrence artists met at the Hookah House. The Olive, a gallery that had become an important staple for local art, had closed and, beyond that, the art scene seemed depressed.
In the beginning their idea looked like nothing more than another little vehicle for local artists to show their work. They called it Red Balloon Redux, latching onto the popularity of the annual Red Balloon To Do local art extravaganza. They arranged for a one-night show on the third floor of Teller's featuring as many local artists as they could get.
The next month they threw a party for creative types, inviting them to bring pocket-sized pieces of art to swap with each other and, hopefully, to coalesce. More than 100 people showed. The art scene was hungry.
Their next one-night show was called Fresh Produce. They had their new name and mantra. They decided that all the work at each show would be brand-new, never-before-shown stuff.
Over the course of the year the Fresh Produce Art Collective would have six one-night shows, weekly Tuesday meetings and a number of bizarre parties. One was 10,001st Annual Summer Solstice Masquerade, for which they built a three-story bonfire and rigged 400 feet of electrical wiring to party with a DJ in the woods. One was the Avant Garden, which needs its own paragraph or three.
Past Event
Monday, February 11, 2008, 6 p.m. to 10 p.m.
Teller's, 746 Massachusetts, Lawrence
All ages / Free
It started off, like the collective itself, as a simple idea-artists were invited to come and build a sculpture garden in local artist Whit Bones' backyard. What it turned into was a brief and intense artistic outburst. People showed up in costumes and created paintings, sculpted, drank, destroyed paintings, ran around tunelessly playing instruments, re-created paintings:
The party started at 7 p.m. By 10, Bones says, it was over and everyone was left to wonder-what the hell was that?
"All this creative energy was just pent up inside these people," he says, "and everyone just let it out."
Past Event
Monday, February 11, 2008, 10 p.m. to 2 a.m.
Eighth Street Tap Room, 801 N.H., Lawrence
All ages / Free
On the eve of its Feb. 11 one-year anniversary show at Teller's-"Tender Loins: The Art of Love, Sex, and Relationships"-the Fresh Produce Art Collective has turned into some kind of weird and powerful and undeniably Lawrencian force that could not have been imagined a year ago.
"It's evolving into something so much wilder," Bones says. "That's the thing. We're a completely different collective than we were last February, so doing this again is kind of like testing the evolution, or de-evolution, who knows?"
Over the past year the group has been instrumental in connecting artists, and two new galleries are springing, at least partly, from its loins.
Eric Dobbins is opening a gallery/studio in April called Wonder Fair: Art Gallery, Screen Printing Studio and How! in the basement of the Casbah (803 Mass. St.) "devoted to showcasing the contemporary rad."
Photo Gallery
"Fresh Produce" art (Caution: some pieces are R-rated)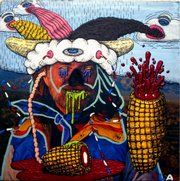 And Bones, Yuri Zupancic, and some of the other core members of the collective are planning to open a space in the strip mall at 19th Street and Haskell Avenue this spring. The space will be used by one artist at a time, with totally free reign over what to do with it.
The Teller's shows are regularly jammed full of art and people, and Bones says the collective is growing to its breaking point. But the future is best left unpredicted.
"We became a collective and basically built with no idea of what was going to happen," he says. "We just kept on building, and before long we've got this momentum, we're this huge boulder that's careening down this hill. We can't be stopped until we run into a building, which I'm sure will happen someday."
We emailed members of Fresh Produce Art Collective to ask about their upcoming show and their involvement in the group over the past year. The responses were, uh, interesting:
***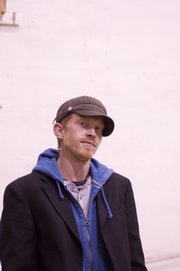 WHIT BONES
The whole collective started as a need to take our fate into our own hands. We decided that our art wasn't going to show itself and no one was going to do it for us. So we got together and decided to have the shows and parties that we would like to go to. We are serious about art and we're serious about having fun. It just worked out that we are able to do both at the same time.
A lot of artists have come through Fresh Produce and we are still hoping to invite many more artists to show with us. The collective is evolving in ways that none of us really anticipated. It started as a small group but has largely become a community collective. It has given us the opportunity to work together and find new avenues of collaboration. There is nothing stagnant about the collective, it is always moving somewhere.
As for my work for this next show, I am working up an intaglio print of a drawing that I have been working on for a while. It's sexy and a bit perverse. All artists have a perverse side, it's just not always easy to find a place in our bodies of work for that perversion. This show allows that.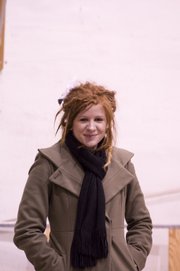 ALICIA KELLY
This is going to be my first show with the collective. I'm a printmaking major at KU and just ran into these kids, I told them I have interest in joining:and bam! it happened. I've been following these kids for about five months now, and just joined in. These artists know how to get things cookin', and just being around creative minds keeps me going and inspired. It feels good to be a part of a group of people who are pushing the art scene in Lawrence to a new direction-they are funky, fun and got a good style.
My piece for the show is still in process, but it won't fall short of anything meaty and delicious.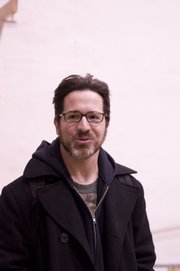 BRIAN STUPARYK
What are you bringing to the show?
A 6-colour silkscreen print of an extra large condom wrapper, but on a full-sized sheet of paper, so as to make it that much more underwhelming. Something that we thought would satisfy us, but in the end, no matter how big or good or otherwise, it's all so fleeting and we are left unfulfilled. A period at the end of a really boring sentence.
What inspired it?
If you have to explain a joke, then you probably shouldn't have told it, that's really the idea.
What was your process?
I had a bunch of them lying around (I'm a dynamo in the sack), so I grabbed a wrapper, scanned and separated the colours out manually using Photoshop to ensure proper registration. The ink was then mixed by eye. It looks shiny when you stand back, doesn't it?
How does it work into the theme?
It's about sex, definitely, sex. Yes. Sex.
Why are you a part of Fresh Produce?
I guess it's because I make the stickers. You've seen them around, on the carousel, lamp posts, back alleys, the Tap Room. But I just printem, I don't stickem.
How'd you get involved?
I crashed the Avant Garden my first couple of days in town, and they just never asked me to leave.
What, in your opinion, is the point of the collective?
Often when art types finish school they quit making art. There are no critiques, no grades, meetings or finals, only your own drive and need to create to keep you going. But sometimes that's not enough in the face of the business of living, which comes on quickly once you leave campus. That's the hardest thing about being an artist, you have to wake up in the morning and give a shit because no one else does. But the function of FP, as I see it, is to help that transition from art student to artist. You have a wide range of members from students to early career artists who can get together, talk about what they're doing, collaborate, show and set deadlines for themselves and giving perspectives that are really easy to lose when you're sitting alone in your studio 12 hours a day just fucking the dog.
What effect has it had on the local art scene?
Not enough. FP is not as visible as it should be, but there are many factors involved in that.
How should it evolve?
A physical presence, a permanent Fresh Produce Gallery.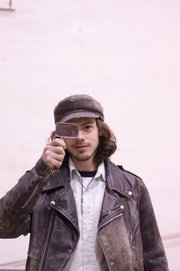 YURI ZUPANCIC
The art I am making for this show includes paintings of intimate scenes on (one-inch square) microchips and larger paintings based on cell phone photos and text message conversations. My inspiration for these things is the spontaneous romantic dialogues that can blossom at any moment thanks to the immediacy of digital communication.
My sweetheart, Anne Bruce, is also a Fresh Produce artist and we are collaborating on a sculptural machine that will utilize magic and electronics to answer romantic queries in a funny, poetic manner.
As far as the collective goes, I was a founding member and continue to play a large part in organizing and encouraging the rampant artistic energies that have made the last year so fun and exciting. The initial inspiration was a need for avenues of public expression: the many artists of Lawrence felt largely isolated from each other and unexcited by display opportunities. We have hosted a dozen events in the last year and want to continue that pace...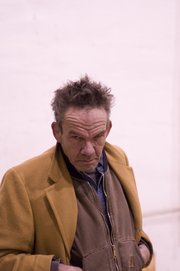 WAYNE PROPST
Fresh Produce:is similar to the kick ball scene when it started:a few yrs. ago:laid back:cool...etc., unfortunately KB evolved into an over-produced testosterone infested bore:the Produce shows concepts:one nite stand, "new" work, and aggressive pricing:encourage edgy sh*t:let's hope it doesn't git away from us:my contribution is still in process:addressing the goo factor in romantica...............xo w
LINDSAY MAJOR
I am putting in an oil painting of two people in bed. It was inspired by the awkward moments in relationships and life. The image itself is rather uncomfortable, creating an awkward tension between the viewers and the people in the painting.
The point of the collective is to refurbish artistic ideas and bring together wonderful individuals. I can only hope they will reclaim the former glory of the Lawrence art scene. I believe they are a fresh breath on a town that was afraid of losing its originality.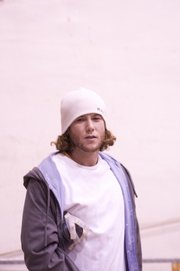 EROK JOHANSSEN
My artwork in general all stems from Graffiti. I have been "writing" for over ten years now and graff was my first experience with art. For this show I have created a few beautifully demented landscapes. Dying trees, abandoned cities, sinking ships, along with some other things more closely related to sex, love, and relationships, but mostly sex. Incorporating scantily-clad girls in compromising poses into a piece or two is definitely a goal of mine for this show. I want to turn my viewer on.
What I really like about being part of the FP scene is working closely with artists that are schooled. By that I mean working with people who have art degrees or are chasing one. As a graff writer, almost everything I know about creating art was self-taught underneath bridges or in dark train yards in the middle of the night. I learn a lot just by being around people that are doing this stuff all day every day. I'm glad our paths have intertwined. Now I consider my time with FP almost like my own schooling. The Tuesday meetings are classes, shows are tests. The only grades awarded are the ones I give myself, and that's either confidence when a piece is well received or a greater sense of motivation when I can tell people aren't feeling a specific work.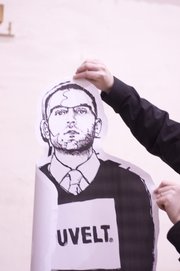 JOUVELT
For this show, Tender Loins, I am presenting a barrage, or grab-bag, of loosely-themed Valentine's Day goodies. Let's just say, it's hard NOT to make art related to sex and relationships - oh yeah, and love too.
I have become part of the collective mainly for shared and continued inspiration/motivation. Let's face it, it's not only more powerful to do things in numbers, it's just a whole lot more fun. Bouncing ideas off of everyone, sharing strategies, and just all out support for one another, for me, seems to be the main point of "collective-ing."
I've known the founding members of this collective since we were kids. I grew up in Dodge City, Kansas, with a few of them, and then I moved out to Phoenix, Arizona, after high school. But now I have become so inspired by the artists, the collective, and the town of Lawrence, I'm ready to start a new life there, as well as a new career.
I've been doing graphic design and illustration out here in Arizona, but haven't struck much luck with networking the finer arts and painting side of things. Every time I go back to Kansas, I seem to get involved with some hands-on, artistic venture - it never fails. It's got me so excited lately, that while I'm attempting to sell my house in Phoenix, I've decided to rent a house in Lawrence for a place to stay while going back and participating in these collective art shows and such.
I don't know what the exact outcome of the group should evolve into, but I do know it should probably keep as fluid as when it started. Things seem pretty loose, but also pretty low-key and relaxing - not all hectic, stressful, and egotistical.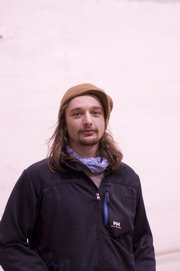 ROBERT GANDY
My work for Tender Loins is a little dip in the celebrity honey jar. I have been pretty interested in the whole mental and physical destruction of Britney and Lindsay, the fall and rise of Nicole Ritchie, from skin and bones to pregnant and healthy. Honestly, it has been probably the most entertaining year of my life. I always felt like something was missing from my life and in the last year I realized it was celebrity obsession. Fuck CNN, the TMZ keeps me pretty up to date on the most tragic stories plaguing our country today. Watching poor Britney shave her head this year was possibly the sexiest thing I have seen in years. The despair and madness that she radiated was so unbelievably delicious. In keeping with my new-found obsession I have been making some mixed media drawingz juxtaposing my favs with some watercolor action.
I got involved with Fresh Produce from the outset. Whit (Bones) invited me to meet with a few others from Lawrence to determine how to approach a shift in the Lawrence art scene. I believe the point of Fresh Produce is to offer artists that fall into our like-minded agenda a place to collaborate, stop and listen, to work together to bring brand new editions.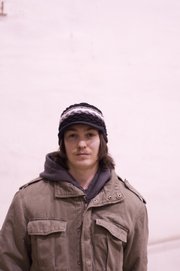 BRANDON MATEER
It's just really refreshing to be able to sit with a bunch of interesting individuals, who are all doing their thing with such style, and let thoughts and randomness sprout for us to water until it becomes this freak of nature that has a beauty all its own.
I basically got involved by showing up for the weekly meetings. My friends who were showing up for them really got me excited about being able to share my weird random thoughts and comments I frequently make with people that would be stoked on them and throw gasoline on the fire to see how hot the fire could get.
For me personally, since I've been lucky enough to be a part of FP, I've been way more productive. To me, that's usually the hardest thing about art. Being motivated, having the space to make stuff, and having the freedom to let the colors and images take on a mind of its own. So really, it's about pollinating the surfaces; whatever they might be.
How should it evolve??? Hmmm, maybe into 80-foot sculptures that are placed around Lawrence that can communicate mental images into people's brains. That's where I'd like to see it go!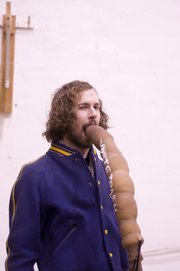 CLARK WALTER
Please describe your art in the upcoming show.
Full Frontal Nudity with my special guest Ron Popeil, lightly seasoned in a faux-anti-vegetarian sauce.
What is it?
Faux reality in an easy to follow step-by-step process.
What inspired it?
Either Satan or God...not too sure right now, I mean I haven't been baptized yet.
What was your process in making it?
Remove pizza from carton and plastic wrap. Place pizza on microwave browning disk with silver side up, touching the pizza crust. Microwave pizza for 2 minutes and rotate 1/2 turn.
How does it work into the theme, "Tender Loins: the Art of Love, Sex and Relationships"?
It doesn't, I have a bad case of premature ejaculation that has plagued me my whole life. The work tends to its load before it even has a chance to connect with anyone.
Why are you a part of Fresh Produce?
No one else likes me. They keep it real like vegetables do with your body. Little to no prejudice against imagery, if you bring the heat the collective will serve you.
How'd you get involved?
By none other than the evangelical ministering of those involved and by using a little bit of White Power left over from the 20th Century.
What effect has it had on the local art scene?
Well, we have abandoned our underground railroad system now that we've managed to pry open a narrow path into the pretentious vag. of the Lawrence art bread box.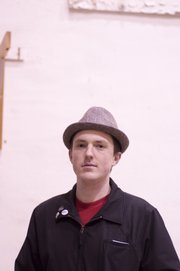 GABE DORSEY
One of my pieces is an abstract piece with swatches of red and thick black acrylic paint. Another piece is an illustrative hot dog and doughnut, very juvenile. Basically a childish look at sex and love.
I found out about FP through a friend of mine. I wanted to surround myself with intellectuals and people that I could use as a sound board. The point of FP seems to be to bring Lawrence art to the forefront of the community.