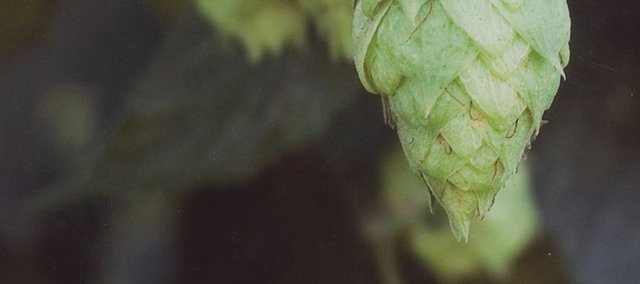 Joe Yoder takes great joy in bitterness.
"Different people have different tastes when it comes to food or drink," says Yoder, a 10-year member of the Lawrence Brewers Guild. "I like beers that have a more pronounced bitterness. There are people who prefer a sweet taste, and they prefer the maltier beers like an Octoberfest or a bock. I enjoy making really hoppy beers."
Unfortunately, that bitterness is starting to reflect the overall mood of micro/craft and home-brewers around the world.
A global shortage of hops that began to emerge in August has threatened all but the mightiest corporate beermakers. In Lawrence, a city with two major breweries and dozens of dedicated private enthusiasts, the situation is becoming increasingly disruptive.
"The price of hops themselves have doubled or quadrupled," Yoder says. "To make a typical batch of home-brew has gone up from $20 to $30 for a 5-gallon batch."
Sean Belden, president of the Lawrence Brewers Guild, says last year he bought hops for $9 a pound. This year the price soared to $28 a pound. Plus, the preferred hops he imports from Europe proved unavailable.
"Craft beer is starting to really take hold," Belden says. "I know many people who drank Bud Light and Coors and Miller for their entire life who've been weaned off the bottle. Now they're trying all these other beers. It's sad that the craft beers are going to have to suffer for a couple years."
Old spice
Hops are the female flowers of a hop plant (Humulus lupulus), a creeping vine that can grow as fast as 10 inches a day.
They are typically hung by growers on strings attached to horizontal cable trellises.
"They're sort of the spice of beer," says Steve Bradt, brewmaster at Free State Brewing Co., 636 Mass.
"Hops provide the bitterness that balances out the sweetness of the malts, barley and wheat used in the beer. It provides a lot of different flavors and aromas."
Brewers typically select hop varieties based on how each type will influence the flavor of their product. Characteristics can range from floral to citrusy to piney.
"Hops have another role to play in beer: They act as a natural preservative. Some bacteria that would otherwise find a good place to settle down are allergic to hops," Bradt explains.
He says throwing in larger quantities of hops in beer can cover up flaws of age and travel. For instance, the famed India pale ales were so highly hopped because they had to travel from Great Britain to India by ship, necessitating the ingredient in order to be palatable by the time they reached colonists and troops.
Making adjustments
The hops shortage can be attributed to a combination of international factors.
A sizable glut in the market started around 2002, resulting in low prices for farmers, who then replaced hop fields with more profitable crops. Both Germany and Australia suffered droughts in 2007, while England endured torrential rains. The American crop was regarded as merely average.
"The surplus that the U.S. had for 10 or so years dried up, and the number of acres that was planted had dropped so much because of the surplus. It was kind of a perfect storm of why the hops weren't there," Belden says.
"Next year is probably going to be a lot worse. It takes two to three years from when the hops are planted to when they produce, so 2009 will probably the worst year."
Consequently, local brewers are being compelled to make adjustments.
"There are some varieties that just aren't available, and that has required us to revamp our recipes a little bit," Bradt says of Free State staples such as Ad Astra Ale and Copperhead Pale Ale.
"We were able to revamp the recipes slowly and carefully without people coming in one day and going, 'Wow, this is really different.' But it's certainly a noticeable difference for those of us who work with it on a daily basis."
Same goes for Free State's competitor: 23rd Street Brewery, 3512 Clinton Parkway.
"We will need to change the recipe in our Crimson Phog Irish Red Ale. We are not able to get Cascade hops anymore, so we are replacing them with Amarillo hops," says Matt Llewellyn, owner of 23rd Street Brewery.
"Fortunately the new hop is nearly identical to the old one - so my brewer tells me. We are also fortunate that brewers are a tight-knit group. (Our brewmaster) is currently trading hops with other brewers in the area. The hop distributors put the fear of God into us this past fall, and most of the brewers in the area bought large quantities of what they know they will need for the year. We are fairly confident that we have enough to last us the year, especially with the trade system in place."
Hop along
So far the Lawrence breweries have not been forced to pass along any price change to customers. But it seems that is just prolonging the inevitable.
Bradt says last year hops accounted for 4 percent to 6 percent of Free State's cost of beer. It's now responsible for 7 percent to 9 percent (and rising).
Unfortunately, for true beer-loving purists, this likely won't affect the mega-brewers nearly as much as those lower on the fiscal food chain.
"The big, national producers such as Anheuser-Busch and Miller will see significantly less change for two reasons: First is the economy of scale and ability to achieve significant discounts through long-range contracting," Bradt says. "Second is the simple fact that their beers contain small quantities of all the ingredients we're talking about. Truly, the more flavorful the beer, the more it costs to make."
He adds: "It's a bad spot for us to be in, but a lot of people are in the same spot. It just requires you to be a little more creative and adaptive to meet the needs of the day. Creative and adaptive are what small brewers are all about."