Monday, February 11, 2008
You might know Paul Flinders as the Lawrence artist who paints those big-headed ectomorphs in surreal states of reverie. You may also know him from his series of birds with gangly legs. Well, expect none of that for his latest solo show, "Bleached Works." Just deal with it. Flinders has returned to his abstract roots, crafting blue and white compositions inspired by the snow-strewn memories of his childhood home, Utah. In between his work with the Fresh Produce collective, performing in Kansas City's "epic rock trio" Love Tusk, and working on his art degree at KU, Paul Flinders found some time to chat with us about "Bleached Works."
lawrence.com: First of all, were you taking a swig off of a flask on the cover of lawrence.com last week? Can we assume it was a little bit of "liquid inspiration" for your work? Some "muse juice," perhaps?
Paul Flinders: Indeed. I should have payed more attention to the photographer. He snapped the shot at the end of a particularly large swig. The organ factory was very cold that evening and I was attempting to stay warm. As for getting ruined while I'm painting, I don't recommend it as highly as Benton or Pollock would have. Coffee is definitely my cup of tea. To each his own, I guess.
Recurring event
Bourgeois Pig, 6 E. Ninth, Lawrence
All ages / Free
You're an artist who's already experienced a good deal of success while being a student. Kind of like a college athlete who's tempted into the major leagues before graduating, is school looking more and more redundant to you right now?
I love the Spencer Museum. My professors are wonderful and underpaid. Apparently, my grad student teachers don't get paid at all. The university must be saving up for something really great. Even though school is tedious and financially crippling, I still feel this burning desire, this urge deep in my soul to earn that piece of paper that says I know what I'm doing. Honestly, I've never been that enthusiastic about school. I'm better at playing by my own rules than conforming.
"Bleached Works" is stylistically quite a departure from what you're known for. How would you describe this new look and how does it differ from your other works?
I've actually been creating abstract work for years. I've only felt comfortable showing it when the "Bleached" series emerged. It was the work of Rothko that got me interested in painting at a relatively early age. Now I need massive amounts of physical and mental space to live and breathe and think. I'm a mess-but an organized mess. I haven't divorced a style, I'm simply exploring another. It's not a total departure. I've still found focus in a grid system. Using palette knives and other objects, I've shown the toil of my hand instead of trying to hide it. My use of color has become more subtle and central to the expression, partly because I started whitewashing over color fields. Also, I've kept a bucket of snow next to my easel through the creation of this series. I've found that paint drips in an interesting way when you mix it with snow and allow it to melt down the canvas. It's very cold in my basement studio, so the process works with very gradual efficiency. I'm really going to miss it when global warming sets the neighborhood on fire.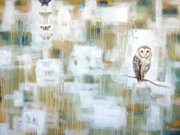 Do you have a different approach to abstract works as opposed to your more illustrative pieces?
Not really. The illustrative works are developed from the same sort of spontaneity. The difference in this work is that it spawns from my being connected to cold weather, especially when there's snow on the ground. So many people consider winter to be a dead season, but I've experienced nothing more refreshing than full lungs of cold night air. Some people really tense up in the cold. To them I say, "Relax your shoulders and let yourself go numb." It's actually very warm and tingly.
Was this a conscious decision to break from the old, sort of an attempt to avoid being pigeonholed, or was it just where you went organically?
Painting out of avoidance and self-preservation is a senseless, negative effort. What I've encountered is an organic shift that has returned to me every winter. Music has been a large influence as well. Music is inseparable from painting. The process of creation and the end product of both disciplines are identical. Most people don't notice because they each pass through different holes in the human body. My winter was spent drifting between Stars of the Lid and Grizzly Bear. I hear winter in the music, which pulls me deeper into connection. Part of my studio has been converted into a music space where my friends and roommates play jazz. Some evenings, I get to have a "muse juice" cocktail hour while I'm winding down from a day of painting. Those are very good days.
Is going in this direction a bit of a risk considering how successful your previous shows were? Are you concerned at all about alienating the patrons, who might drop their monocles in shock, loudly "Harumph," and disgustedly return to their horse-drawn carriages upon seeing the new work?
Aside from cynics, smug intellectuals, and the Monopoly guy riding behind his train of white stallions, I've found myself surrounded by generous support. I've never known a place like Lawrence. I've never lived in a place so progressive and open-minded. Free thought is the most important freedom. It deserves our exploration just as much as Jean-Luc Picard's final frontier. Growth and change are inevitable. Adapt or perish. Embrace or whither in denial. Not to evolve would be very foolish-Lawrence has a grip on that truth. If this direction is a risk, I'm not afraid. I've had shows where nothing sells, so I'm well equipped to deal with it.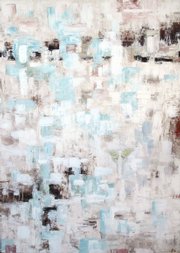 Do you think that the Lawrence art scene is in a blood-spurting death rattle, as seemed to be the consensus immediately following the Olive closure?
My last two Lawrence solo gallery shows were at the Olive. I pass Richard's Music and get all nostalgic. The Field Gallery closing was just as shocking because it'd been open for what? Four decades? Then there's the ill fate of Ad Astra Galleria and KOJO. I thought I was going to have to move to Canada and become a Jedi. Fear not-there is hope. My art friends and I have since assembled the Fresh Produce Art Collective. We all realized that we didn't have to watch the art scene die. We took fate into our own hands because we discovered we could. That speaks volumes about the artists here in Lawrence. No gallery closing will stop the production of art. No matter where the money is, we are addicted and we will keep creating and showing. And anyway, Lawrence is still supporting and buying art. I'm certain 6 Gallery arose from that awareness. The art is still here, we're all just having to find a new approach to the marketing aspect. Even when I'm not showing, the online community has been equally supportive. The internet has transformed the art industry overnight.
Finally, you grew up in Utah-disappointed to see Mitt Romney drop out? Would you ever consider doing a burlesque portrait of him in his special Mormon underwear?
Certainly. Why not a whole series of influential Mormons? I'll call it "Gagging for Garments." Actually, Mormonism has played a large role in my family's move to the Midwest. On a beautiful Sunday morning in sleepy little Spring City, Utah, both my parents gave testimonies to our congregation about the importance of open-mindedness and to search for our own personal connection with the universe at large. The church didn't appreciate these thoughts and made swift work of letting us know, so we moved away for a fresh start. Howard Thurman once wrote, "Don't ask yourself what the world needs. Ask yourself what makes you come alive and then go do that. Because what the world needs is people who have come alive."
More like this story on Lawrence.com