Monday, February 11, 2008
Madina Salaty, music agent, cuckoo for coupons, amoureux des chiens de taureau
How do you save money?
"I am the coupon queen. I have the Lawrence Dining Card, which is a collection of discounts you can use at various restaurants. I like the coupons in the back of the phone book, too. The Ad Pack that you get in the mail and in the paper, or you steal it from your parents' house, is great. I'll also take my parents' phone book coupons-they're not into the coupon thing. You've got to be into the coupon thing, have a lot of friends and family who aren't into the coupon thing, and then you take their coupons. I love 'buy one get one free' or 'buy one get one half off.' Grocery store coupons that are, like, 25 cents off aren't even worth my time with the scissors and the paper. I try not to spend money on something unless I have a coupon for it. I love 'loyalty cards'-those 'buy 12, get one free' punch cards. I use a lot of those. Free State has a 'buy 5 lunches, get one free,' so if you and a friend go to lunch that's 2 right there."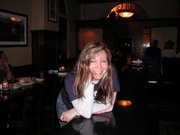 How do you splurge?
"I have an extravagant dog. He cost more than what 99% of people would ever imagine paying for a dog. He's a French Bulldog named Bear. I had never been a dog person until I met this dog. There's also vet bills, food, and it's impossible to walk into PETCO without walking away with a toy. They intentionally make it that way."
More like this story on Lawrence.com