Monday, February 11, 2008
Joe Fox
Age: 20
Sign: Capricorn
Hometown: Leavenworth, KS
Time in lawrence: 2 years
Occupation: Student/RA at Hashinger Hall
What were you doing when scouted: Taking a break from a bike ride.
Favorite stores: I mainly shop at thrift stores. I like Wildman Vintage and sometimes ATC. Sharks is also good. I spend more money on restaurants than clothes, like Zen Zero, Perkins, and Thai Siam.
How often do you go shopping each month: When I have money, I go about once a week.
How would you describe your style: My style is stylized off of militaria, but not fatigues or anything. I like canvas shoes and DIY influences. I'm inspired by retro shirts.
Where do you get your hair cut: My friends cut my hair. It's getting pretty long, I really need to get it cut.
Photo Gallery
Style Scout: Joe Fox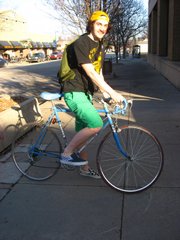 Favorite trends? Skinny jeans for guys and girls, for the stretch. I like flats and Mary Jane's on girls. I like the resurgence of old hats, and I like more indie hairstyles.
Least favorite trends? The Dude-bro look. My number one pet peeve is leggings. Just leggings and nothing else. It's worse than Spandex. Only about 10 girls can pull it off.
Tattoos/piercings? My friends and I pierced my lip a few weeks ago when I was drunk but it got infected so I took it out.
Favorite coffee shop? I like Java Break because it doesn't seem uppity. They have lots of couches, good prices, and they're sympathetic towards coffee drinkers and they don't get mad if you talk a lot or want to have a conversation.
Favorite place to hang out? I usually hang out at Perkins or house parties.
What would you like to see more of in Lawrence? More bike riders and more of a bike culture. More cheap thrift stores.
What would you like to see less of in lawrence? Less people that are pissed off at bikers. Generally I like how Lawrence is.
Who are your fashion influences? My friends and I like '80s music videos. The graphics are pretty sweet.
Tell us a secret: I don't shower every day, and I sometimes don't shower every other day.
More like this story on Lawrence.com