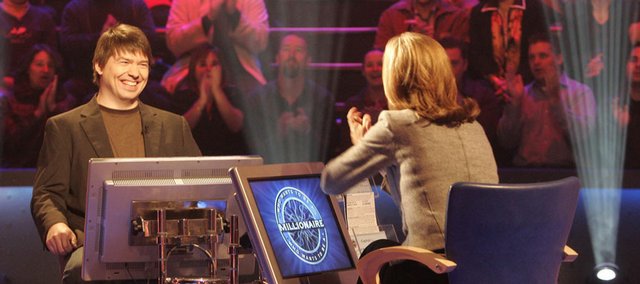 Friday, February 15, 2008
"Lotion."
That was Eric Melin's answer to a question that has haunted him since appearing last summer on the VH1 program "The World Series of Pop Culture."
The question: "In the famous scene from 'There's Something About Mary,' what does Cameron Diaz mistakenly think is hanging from Ben Stiller's ear?"
The answer was not lotion; it was hair gel. And the incorrect response helped knock Melin and his two other colleagues out of the team competition.
Fortunately, Melin can finally put the lotion in the basket of his subconscious. The 36-year-old Lawrence resident has been given a second chance to prove his knowledge of movie trivia ... on a much bigger stage with far more money at stake.
"My goal was to just not blow it," Melin says. "I felt like I blew it on the other show. I wanted to play a game I could be proud of. I wanted to concentrate more on the questions and less on being a cheeseball on camera."
Past Event
Monday, February 18, 2008, 4 p.m.
Set'em Up Jacks, 1800 E. 23rd St., Lawrence
All ages / Free
Melin will appear at 4 p.m. Monday and Tuesday as a contestant on "Who Wants to Be a Millionaire" (Sunflower Broadband Channels 8, 14 and 202). The 2007 Kansas University film school graduate is taking part in Netflix Million Dollar Movie Week. And while unable to give any specific details about how he fared, he admits his tenure on "Pop Culture" provided some valuable experience.
"It helped me out when I was on stage concentrating on answering questions correctly, instead of concentrating on moving cameras, a large audience and a host sitting in front of me who seemed to be speaking gibberish," he says.
The founder of Scene-Stealers.com and a film critic for lawrence.com, Melin says the two game shows offered very different pressures. In "Pop Culture," he never got to see the question, relying solely on the voice of the host. Whereas in "Millionaire" a monitor display sat in front of him - and the questions were multiple choice.
Past Event
Tuesday, February 19, 2008, 4 p.m.
Johnny's Tavern (Overland Park), 6765 W. 119th Street, 119th and Metcalf, Overland Park, KS
All ages / Free
"But every question you answer, the entire game is at stake. And when you reach a certain point, the four answer choices become their own questions. There were questions that I just knew to begin with, but once I saw the other three choices come up, I started to doubt whether I was right," he says.
That swirl of confusion contributed to a memorable encounter with host Meredith Vieira.
"I had already walked off the stage at least twice in the wrong direction. I was just in a daze," Melin recalls. "I went back to say goodbye to her. As I was walking toward her it looked like she was going to give me a peck on the cheek, but for some reason I met her lips with mine. I may be putting too much into this, but I'm pretty sure I saw her eyes widen a little bit before we kissed - as if, 'What the (expletive) is he doing?'"
Getting in the door
Last July, Melin heard from a co-worker that "Millionaire" was auditioning prospective contestants in Kansas City.
He originally was uninterested because "I don't know general trivia," he says. But once he found out the show was recruiting for movie week, he decided to take a gamble.
He was given two tests: one for movie trivia and the other general trivia.
Questions Melin encountered on the movie portion included: "What was the song HAL sang in '2001: A Space Odyssey'? And "Which Bogart-Bacall movie featured the famous exchange, 'You know how to whistle, don't you, Steve? You just put your lips together and ... blow?'"
(Answers: "Daisy" and "To Have and Have Not.")
Melin was one of only two people who passed the movie test, though he failed the general trivia portion.
Oddly enough, the tryout happened the same day as his team's broadcast debut on VH1's "Pop Culture"
"I told the producers if they want to see what I look like on TV, they could watch me that night," he says.
Eventually, Melin and nine others from around the country were culled from 20,000 applicants to be flown to New York City in October. Other contestants included a film student and a film professor, but Melin was the lone film critic.
"I had very low expectations," he says of his network debut. "I just wanted to pass the $1,000 mark."
More millionaires
Melin is not the only "Millionaire" contestant with Lawrence ties.
In 2000, Fowler Jones took the hot seat.
"Back then the whole nation was consumed with 'Millionaire' fever," Jones says of the primetime version that featured Regis Philbin as host.
The 1988 KU journalism grad witnessed a preceding contestant decide to quit at the $8,000 mark ("When he walked, I thought, 'What a schmuck,'" he remembers), and vowed never to settle for so little. Unfortunately, when it came to that same point in his game, Jones had already burned all three lifelines and was sitting on a question that baffled him.
The question was, "In October of 2000, what boxer released an album of Spanish and American ballads?"
"That's when the Jedi mind games start. It's so easy when you're at home in your underwear because you've got nothing to lose. But you start questioning your own ZIP code because you don't want to screw up on national TV," he says.
But instead of taking the easy money, Jones took a gamble.
"I said, 'Regis, $8,000 isn't going to change my life. I'm going to risk it.'"
He guessed Oscar De La Hoya - the correct response. Then he kept going and going.
"For $64,000 they asked a geography question about where the Battle of Little Big Horn occurred," he says. "I knew the answer was Montana. Regis said something like, 'Oh Montana, that's by Kansas. That's why you knew that.' I'm like, 'Uh ... okay.'"
Jones eventually grossed $125,000.
"I invested some of it, so in that sense I still have it. We put most of it in a new house," says Jones, a computer programmer who lives in Overland Park. "I cleared about $90,000, but my only impulse purchase was a DVD player. And we threw a watch party where we paid for everybody's drinks at the bar."
Sound advice
Jones is happy to offer advice to other locals seeking to take their shot at "Millionaire."
"One is to get a children's almanac that has the basic stuff you learn in grade school," he says.
(He admits an Olympics question that prevented him from advancing past the $125,000 point was among the info listed in the almanac.)
"The other thing is to get a subscription to People or Entertainment Weekly so you don't get tripped up on something like the De La Hoya questions of the world," he says.
Melin says the key to winning is to first find a way onto the show.
"Be personable during the interview process," says Melin, who hopes to use any financial gains to further advance Scene-Stealers - which he describes as "a personality-driven site about two rockers-turned-movie critics who are just obsessed with movies."
"You are not just meeting the producer; you are convincing somebody that you're the person that they want to put on TV. Not only should you spend the entire interview trying to make them laugh and show how excited you are to be on their TV show, but when it comes time to shoot that photo that they're going to take back to New York, smile like a big idiot."
Just be careful when deciding whether or not to kiss them on the lips.