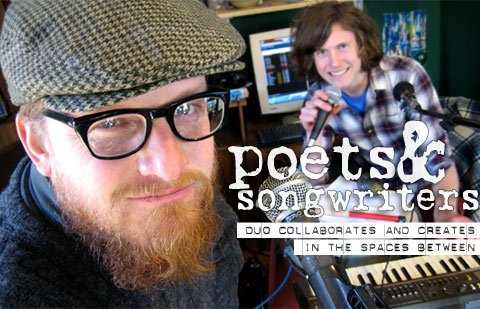 Monday, February 18, 2008
Let's be clear from the get-go: There's a difference between songwriting and poetry.
Poetry leans on the words themselves to convey mood. Good lyrics, however, weave into the music to make a whole. The music provides cues to the emotion and intent of the writer. In a nutshell.
the road is alivewith a family of white snakeshalf snow and half wind
Then again, when read aloud the differences between poetry and lyrics rely on the shape the reader gives to them.
On February 21, poet Peter Wright and singer-songwriter Kelly Hangauer will try their hand at blending the two art forms in a one-night performance at 4-1-1 Artspace, part of the Percolator event series (the umbrella under which my Seed Artists' Lectures happen).
Wright and Hangauer have been working to blend their different mediums since the poetry/storytelling/spoken memories/music of Karl Ramberg's "Dark Matter Music" performance at 4-1-1 earlier this winter.
Past Event
Thursday, February 21, 2008, 7 p.m.
4-1-1 Studio, 411 E. Ninth, Lawrence
All ages / Free
"I was inspired by Karl's thing. So I asked Kelly if he'd be interested in collaborating," said Wright. "I thought it would be cool to do something that wasn't just poetry."
Hangauer's experience at the Ramberg event was already changing the shape of his songwriting. "After Karl Ramberg's performance, I've been recording people's conversation and transcribing it and making it into a song. Like the song of the people, without them even noticing it," he explained.
"Like all the little ways words are used to express your ideas, going back and forth, and all the thoughts being jumbled up but finally getting the message out." The reliance on words-much like poetry-was driving Hangauer's musical process.
vultures crowd the ditchscattering when we drive bythey hover and wait
The collaboration will culminate in an experimental performance: two men, a Casio keyboard, a trumpet, maybe a few other instruments, and words in a primitive but active painter's studio space. "Kelly's going to do a song of one of my poems. He's going to choose one to perform. So far, the way it's going to go, we're going to start with haiku and the little keyboard, drumbeat, distortion. I'll read with space in between," said Wright.
Working with space in between is taking a rule of modern poetry and giving it a life in front of an audience. "It helps me to have a rhythm and music behind it. I tend to read really fast, because I'm nervous, and it helps to have something, like a metronome, to slow it down," explained Wright.
The metaphors to explain the mechanics of poetry often involve music-rhythm, beat, that sort of thing-and it's in those metaphors that Wright and Hangauer will experiment. "I tend to not capitalize or to punctuate; I do very specifically put line breaks where I want them," Wright explained of his writing. "The person who is reading it has to allow the poem to teach them how to read it. There are places where it could mean several things depending; I might break it where it normally wouldn't be broken, so that you might have two or three different meanings. And I mean them all."
Wright expects his poems to take on new life during the performance. "Sometimes I read them out loud at home. Sometimes there definitely are lines that just don't ring true. That's just amplified in public," he said. "Sometimes I just leave them there, because the process is sort of part of what should be in the poem. Like the times where that emotion or sort of struggling with where to go next, those lines sort of sound like that sometimes."
It's the New Direction that most interests Wright and Hangauer, rather than the Final Product. Though they are both deeply committed to solid craft, it's the raw-at-the-edges creative process that occurs when two artists work together and let the art lead that seems to be celebrated now, during this cold, gray winter.
Hangauer explains: "Just sitting down and just playing, to clear your mind, just playing chords, just what catches your ear. That can happen, and then you remember that, and you'll be inspired by anything."
this world does not mindas long as we give ourselveshappily at last