Monday, February 18, 2008
Rick Caccino, full-time Rick Caccino, enjoys doing everything and re-watching "Oceans 11"
How do you save money?
"Simple. My philosophy has been world domination one drink at a time, but I've pared that down to half a drink at a time. I'm halfway to world domination. I don't accelerate or decelerate as fast as I used to in my car. I take advantage of opportunities. There are short-term goals, there are long-term goals and there are mid-term goals-all of them can save you money, but in the long-term you think about the future of humanity, in the short-term you think about yourself, and in the mid-term you compromise. I'm not an economist, I'm an idealist. Idealism is very costly in the short-term, but in the long-term idealism is better and cheaper. Now ask me a tough question."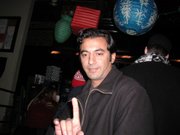 How do you splurge?
"On my friends. I had a friend who actually used to be a male escort, and I support my friends in all of their endeavors."
More like this story on Lawrence.com