Monday, February 25, 2008
Last week, Breaking News crafted its first-ever essay contest. Readers (like you!) were asked to send essays to frank@lawrence.com or to our physical mailing address, stating, in any form, why they deserve the Special Prize.
Breaking News is deeply pleased to announce, without further etc., that winner of the Special Prize is: Arielle Martin. Supreme congratulations! Among other things, Arielle wrote:
"You're the reason why I'm here in Lawrence, KS. Being from Massachusetts, I can't escape the question, 'Why Kansas?' I never tell anyone it's because of you, but it is. : I wouldn't want to live anywhere else at this point of my life. (I'm sorry this sounds so phony. Please just give me a tee-shirt or something.)"
Thank you, Arielle! Breaking News hopes your Special Prize (with a T-shirt composing a mere fraction of a fraction of the booty included) finds you in good health.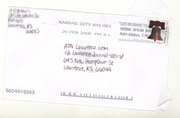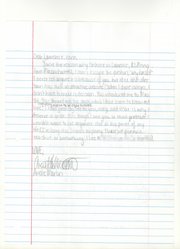 Breaking News so wholly enjoyed reader responses that the contest is hereby declared permanent! Just send an essay of any length on why you deserve the Special Prize (being a big suck-up like Arielle not required), along with your address, and you will be fruitfully rewarded.
In other news, three subject groupings at the ends of bookshelves in the nonfiction section of the Lawrence Public Library are written as follows:
Home Schooling
College
Stamp Collecting
True Crime
Education
Railroads
Fashion
Etiquette
This is the 3D edition. Can you tell? You know those posters that pop out at you if you stare long enough? Figure out our secret for making this 3D and win the Special Prize.
-All facts in this story are real. Got a breaking news tip? Email frank@lawrence.com (and win the Special Prize!).