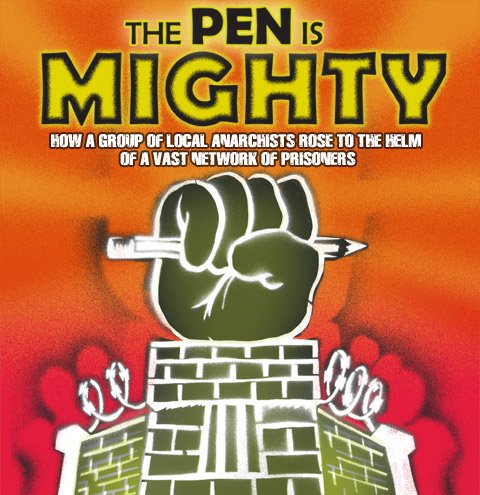 Monday, February 25, 2008
It's Sunday in a basement office at 14th and Massachusetts streets, and five Lawrence anarchists are doing what they do every Sunday: running a vast network of politically radical prisoners.
Equipped with a copy machine, a couple computers, a printer, a fax machine and a stock of secondhand tables and filing cabinets, the small, paper-stuffed office operates as a scrupulously organized mailroom for the Allied Resistance Network.
The network started simply, growing out of a relationship between a Lawrence anarchist and an inmate of Leavenworth Penitentiary. The anarchist was Dave Strano, and the prisoner was Gabriel Concepción, a leader in the infamous Latin Kings street gang.
Blaze, as Concepción is better known, was doing time in Leavenworth after being caught years earlier in a drug sweep of his Bronx neighborhood and convicted of dealing.
After going to prison, Blaze was convicted of assault and conspiracy to murder in a mass indictment of Latin Kings leaders following the prison murder of the head of the New York chapter of the gang.
By the time Blaze met Strano, he had become an active organizer of prisoners. Enamored with revolutionaries, from Malcolm X to Mao, he had gone on a hunger strike for better conditions in solitary confinement, was writing essays on his leftist, anti-capitalist ideas, and was looking for a big, wide avenue for prisoners to spread their thoughts.
"I had hundreds of prisoners that I already was in contact with," says Blaze, who was released one year ago after 13 ½ years behind bars and works for a delivery company in the Bronx, "so what I did was I started telling them all, 'Listen, let's work with this newsletter. Let's all start submitting essays and poetry and our thoughts, our complaints about the prison-industrial complex and the brutality of the guards and whatnot.' And it just flew."
Strano had been active in the prison abolition movement and had been in contact with high-profile inmates that he considers political prisoners, like Leonard Peltier (the American Indian Movement leader convicted of killing two FBI officers in a 1975 shootout on the Pine Ridge Indian Reservation).
With Strano and a few other Lawrence anarchists willing to take submissions and put the newsletter together, and Blaze rallying support from inside, the first issue of the Allied Resistance In Social Enslavement (ARISE) newsletter, later called the Allied Resistance Network, was sent to about 30 prisoners in April 2005.
In less than three years, the mailing list has shot up to 1,200 prisoners across the country, from the Jefferson County Jail to Angola Penitentiary.
While plenty of programs and activities for prisoners exist-at some facilities they have the opportunity to act in plays, learn to read, find Jesus and study entrepreneurship-most have a common thread: they're designed by either the government or by good-hearted people on the outside.
That's where the Allied Resistance Network represents something else altogether. The Lawrence anarchists do the legwork, but prisoners compose the poems, draw the artwork and write most of the articles for the newsletter. And prisoners are the ones who circulate the newsletter, accounting entirely for its exponential growth.
"A lot of these brothers inside, they feel more energetic when they see that it's actually something of their own," Blaze says.
Every Sunday afternoon, the Lawrence anarchists check into a salmon-pink-painted room of the Kansas Mutual Aid office for a few tedious hours of grunt work that keeps the ever-expanding network together.
They pay a Kansas City publisher $1,000 to print 1,500 issues once every two months (some of those that don't go to prisoners are delivered to Solidarity and other outside organizations).
That cost, as well as the rent for their office-they operated out of Jordan Ferrand-Sapsis and Strano's living room until things got too cramped and chaotic-and $200-$300 a month in shipping for literature requests, are paid through donations, fundraisers and the members of Kansas Mutual Aid themselves.
Prisoners send 200-300 letters a month, ranging from newsletter submissions to indecipherable rants and appeals for money. The majority are requests for literature from Kansas Mutual Aid's library of about 100 zines on leftist politics written by prisoners, radicals and revolutionary leaders.
"People in prison become more revolutionary, or more radical, because it exposes even more of the problems with everything going on in the world today," says Danielle Loftus, one of the core members of the group. "People don't come out of prison fixed or better. They come out generally more broken and don't have any way to cope with what's been going on in the outside world."
While the content of the newsletter is provocative, the work that goes into keeping the network humming is markedly dull. David Miller's task today is to read through the letters and write on their envelopes whether they are literature requests, newsletter submissions, or other. Strano is updating the mailing list on a computer in the corner of the room as Tyler Davis is stuffing zines into envelopes.
Loftus and Ferrand-Sapsis are addressing red envelopes that are sent to prisoners along with literature requests so the prisoners will know the literature was sent if the prison holds it from them.
Of the 1,200 copies of the newsletter mailed to prisoners, about 100 are typically returned, either because prison administration considers the content incendiary, because of disciplinary action taken against a particular prisoner, or because of Kansas Mutual Aid's reputation.
Some prisoners have told Kansas Mutual Aid they were placed in solitary confinement simply for contributing to the newsletter, Ferrand-Sapsis says. "We have to fight every time to get the newsletter inside," she says.
Provided the newsletter does find its way into prisoners' hands, as it usually does, eventually, Blaze says the inmate-written material is something they can't find anywhere else. Certainly not in the news flow a mainstream media out of touch with and screened from conditions on the inside.
"It's real stuff. It's raw material, what you're getting there," Blaze says. "They really don't edit a lot of the material. : The prisoner says what he says, and it gets printed. And most people that read those newsletters, they love it."
More like this story on Lawrence.com