Monday, February 25, 2008
Lindsay Taylor
Age: 24
Sign: Scorpio
Hometown: Merriam, KS
Time in lawrence: 5 1/2 years
Occupation: Paraeducator
What were you doing when scouted? On my way to the Community Building to work out.
Favorite stores? The Antique Mall, Dillons, Jenson's, and Hookah House.
How often do you go shopping each month? As many times as it takes to reach my $20 a month spending limit.
How would you describe your style? Anything I can bust a move in.
Where do you get your hair cut? I get it cut at Static by Jessi or Roxanne.
Photo Gallery
Style Scout: Lindsay Taylor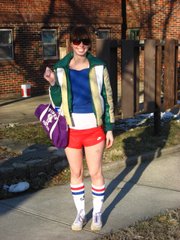 Favorite trends? vintage swimsuits and being married.
Least favorite trends? Skinny jeans on men...way too much detail.
Tattoos/piercings? I have my nose and ears pierced, and I have a tattoo on my back that says "made in kansas". I got it done at Big Daddy Cadillacs by Carlos, about 5 years ago.
Favorite coffee shop? I don't like coffee, but my favorite coffee shop is Aimee's for their biscuits and gravy.
Favorite bar? I like the Taproom because I can go dancing there, and I like Harbour Lights to play darts.
What would you like to see more of in Lawrence? More KU basketball players, more thrift stores, and Taco Grande.
What would you like to see less of? I'd like to see less potholes and cold weather.
Who are your fashion influences? My husband, Adrian.
Tell us a secret: Even though I'm married, I have a major crush on Darnell Jackson. Everyone knows about it, so it's really only a secret to him.