Saturday, January 5, 2008
Liz Gardner's Ground Rules, c. 2007:
1. There are no mistakes in art.
2. It is just one day. There are hundreds more to come.
3. If you have an idea, run with it. Don't worry about how it will come across.
4. Do not invest a lot of money in materials. First and foremost use what you see around you.
5. Don't stop at 3, 6, or even 8 months. Finish out the year!
Liz Gardner's 2007 end-of-year report:
"A Day in the Life: Pocket-sized Pieces (PSPs)," opens Friday at the Love Garden. She did it. A New Year's resolution completed, successfully.
It was one year ago that Gardner recognized a need to jump-start her art making. She'd fallen in love with running and was training for the Chicago Marathon. Time spent pounding the pavement took her away from her textile design work, and eventually she found herself in need of a creative boost.
Gardner resolved to create something, anything, for each of 2007's calendar days. "At the time, I thought it may be too intimidating to create something everyday, so I decided to work small," she explained.
Past Event
Friday, January 11, 2008, 7 p.m.
Love Garden, 822 Massachusetts, Lawrence
All ages / Free
And small they are: most of her PSPs measure 2.5-inches square. Materials range from hand- and machine-stitched fabrics, paint, and found materials such as tiny figurines and tattered newspapers found blowing down a city street.
Many of the PSPs are simple, featuring color fields backing collaged images. Her friend Lucas Wetzel has written haikus for some of the works in the upcoming Love Garden show. Small, insightful, and often funny, they are the perfect complement to her new work.
"Liz's pieces do a great job of capturing the surreal nature of daily life, and I think that's what has inspired me the most," said Wetzel. "I chose to write haiku because they are succinct, mysterious, and open to interpretation, much like the pocket-sized pieces themselves."
The list of rules helped guide the new creative darkness, although Gardner's top 2007 affirmation-There are no mistakes in art-freed her. "My PSPs definitely vary from day to day," she said. "One day I may collage materials such as paper, magazines, or old drawings. Another day I may take a found object and put it into a setting that I can identify with that day.
Audio Slideshow
Some Pocket-sized Pieces (PSPs) by Liz Gardner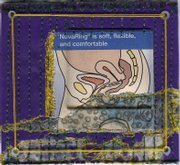 "If I am not inspired by a particular material, I will draw an inspirational thought, dream, or interaction of the day," Gardner said. "I look at color arrangements, visual texture, and design for inspiration as well."
When not in her studio or running, Gardner works with autistic children in the Olathe Public Schools. Although she isn't technically an art teacher, she recognizes the creativity in what she does: "I create picture communication devices, personal stories, and come up with lesson plans that may tie art or some kind of creative thinking. I love to nourish the creativity in these kids, and believe me, they have plenty of it!"
Those up on Lawrence's visual arts scene may already know that much of Gardner's works have grown from her own childhood. Her 2006 Olive Gallery solo exhibit, "Operation Popple People," was an autobiographical journey to maturity through Popples, her version of a short-lived Mattel toy that captured Gardner's imagination as a 5-year-old.
"I tend to draw on things that I enjoyed or experienced as a child," Gardner said. "I tend to be a child at heart. I love toys, bright colors, and whimsical illustrations.
"Some of my favorite art is made by children," she continued. "I love the crude, uninhibited approach that children tend to have as artists. That kind of sensibility is something that I often strive for in my drawing and painting."
Unfettered childhood creativity is a sensibility artists have recognized since the mid-20th century, when Jean Dubuffet coined the term l'art brut and asserted that work by children, the mentally ill, and primitive societies-art innocent of Western cultural standardization-was the purest form of expression.
Gardner takes off on Dubuffet's initial concept-freedom, chance, lack of inhibition-and turns it by adding pop cultural and personal narrative. Her roughly sewn works may appear childlike initially, with their crude stitching and unconventional color choices, but her craft posits sophistication and skill.
Gardner's skill thus makes "A Day in the Life" a cohesive and intriguing art series. Read on its surface, it's a refreshingly simple collection of daily compositions. Looking deeper, however, and the viewer can recognize the complexity of an adult life. That's the refreshing take on resolutions: taking the tired aspects of one's self and reinventing them, waking them up and making them new again.