Neesa Hussain
Sign: Capricorn
Age: 22
Hometown: Spring Hill, Kansas
Time in Lawrence: On and off for four years
Occupation: Soon-to-be fashion stylist
Scouted because: Her vibrant red coat made a gloomy winter day a lot brighter.
What were you doing when scouted? Checking out art books at Borders with a friend.
Favorite stores? Jensen Liquor, Checkers, the Social Service League, thrift stores, Goodwill, and my roommate's closet.
How often do you go shopping each month? Two or three times. I'm poor, man.
How would you describe your style? I would say my style is colorful, quirky, and a little "out there." (Her friend adds: "Her style is like if she ate a whole buffet and threw up on herself.")
Where do you get your hair cut? I cut it myself because I don't trust my friends to cut it anymore.
Photo Gallery
Style Scout: Neesa Hussain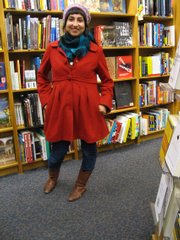 Favorite trend? Buy one get one free! Generally though, I'm open to everyone's style.
Least favorite trend? I don't like velour track suits or mesh tops.
Tattoos/Piercings? I have my nose pierced and I have four tattoos. I'm really into nature, so I have a dandelion on my wrist, an autumn leaf by my shoulder, a cherry blossom branch, and also whale tattoo on my arm that I got with a friend.
Favorite coffee shop in Lawrence? I don't like coffee, I like alcohol.
Favorite bar? My freezer, and also the Replay because I like to scope out the hotties and tear shit up.
What would you like to see more of in Lawrence? Hotties. And flying cars.
Less of? Less girls, so I can get all of the hotties.
Who are your fashion influences? Marc Jacobs, 'cause he is my best friend. I also like John Galliano, Britney Spears' current fashion disasters, and normal street style.
Tell us a Secret: My favorite sandwich is poop on wheat bread with a side of mayonaise.