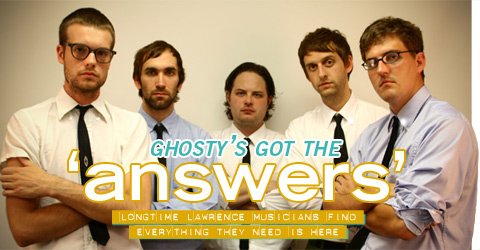 It's hard to believe that it's been two years since the members of Ghosty -one of Lawrence's most beloved homegrown bands-packed up, going to Kansas City.
This fivesome is still deeply connected to Lawrence, however, and for the release of their new album we will be treated to two shows in a week-and this from a band that spreads out appearances judiciously.
Ghosty's fifth release, "Answers," is its first on OxBlood Records, the local label run by Robert Moore (of Sonic Spectrum on 96.5 FM) and Megan Hamilton, and its first produced by another noted local, Paul Malinowski.
The album is awash with this locale-from its artwork to the lyrics, which marinate on the notion of place, the problem of starting over, and if one can fairly blame geography for his or her problems. Just a few days shy of Christmas, lead singer Andrew Connor invited lawrence.com into the house he shares with artist and fiancee Liz Gardner to chat...
No-fi highlights from the podcast
lawrence.com: Now that you've been in Kansas City for two years, what do you think of the music community relative to Lawrence?
Connor: I don't know. There's a lot of great music in both places. I feel like a lot of Ghosty's musical identity comes from being influenced by Lawrence things, that's why we still kind of consider ourselves a Lawrence band. Like last night we saw Arthur Dodge and the Horsefeathers, and that kind of groovy, rootsy rock that's really informed by a lot of great music-that kind of stuff makes me think of Lawrence. Kansas City is just a different animal. It's totally varied. There are a ton of great bands. It's a bigger pond, as they say.
: We've been a band for a long time and we're fortunate to have a lot of friends that also play in great bands, but I don't know if I have a finger on the pulse of the scene. There are differences. People get pretty brave in Lawrence and pretty adventurous and that might be more of a college town thing. As far as college towns go, it seems to be that it's the best college music town around. It packs a punch for how small it is. There are a lot of creative people there. There's a lot of good stuff that has had an influence on us: I've lived in Kansas City for a couple years and I don't really feel like I can comment on it. I still feel like I'm learning.
How do you feel about Kansas City as a community?
Inevitably it's going to be your own niche, even in Lawrence. For a musician it depends on what kind of music you play to find your community. The longer we live here, the more friends we make. Most of our free time is spent working on music anyway.
Ghosty has been one of the few bands that has been consistently working spanning nearly the last decade. What keeps you around here?
We've definitely talked about all that stuff. Maybe five years ago we were all about moving to New York, and that just sorta didn't happen. But even if it did happen, I'd kind of be amazed if the band was still intact after everybody moving to a city. Then we were talking about moving to the West Coast to San Francisco or Portland, Oregon. I guess where I've ended up with it is that we've all carved out niches for ourselves here and we don't feel that strongly that we need to be somewhere else to do what we want to do. I don't have anything all figured out, but I know that I'm really happy here and fulfilled doing music.
How did you hook up with Robert Moore and OxBlood?
I met Robert because I was getting curious about his show. He was on KCUR in Kansas City doing Sonic Spectrum, and it was great. As far as looking for music scene type of things, he had great taste and he mixed in a lot of local music. In my mind as far as where I would want Ghosty's music to be played, I wanted Robert to play our stuff because I liked his taste and I thought it made sense in that context. So I got him some of the music and he liked it and we kind of became friends: [OxBlood's] first release was this compilation that came out last spring called the First Blood Compilation, where they took a bunch of great local bands. It was a great concept because it was a local compilation but the continuity of it was that everyone recorded with the same person in the same studio, Paul Malinowski. We got to go do a track and we ended up doing a song that to us was exactly what we wanted to be doing at the time. It was really different than what we'd been doing. We did it in one day and it was effortless. We liked working with Paul and we decided "Why mess with a good thing?" So we were excited about the track and Robert liked the track, too. At one point he mentioned. "If you guys are looking for someone to put out your record, come talk to me." I always had that in my mind and I ran into him and said "do you really wanna do that?" That's how it started.
: I think the next record is going to be all self-recorded. With Paul, it wasn't like we would need to go to the other side of the country to do what we wanted. Why mess with a good thing? It feels great to not have to leave town.