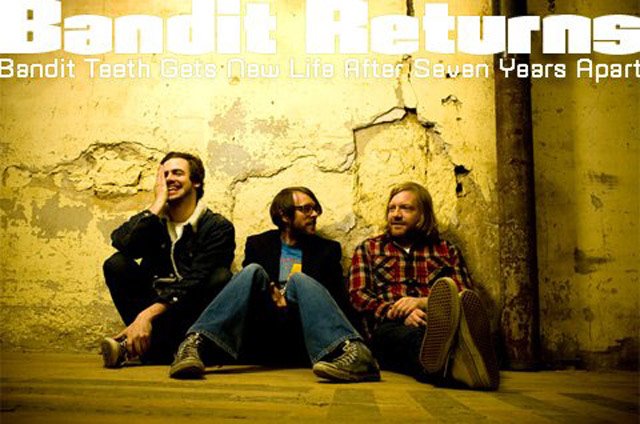 Lawrence sometimes feels like a revolving door, with both students churning in and out and a steady stream of "townies" who've made up their mind to finally get the heck out of this damn town. Brad Shanks took his leave seven years ago, effectively disbanding Bandit Teeth, which he had formed with friends Charley Downey and Cobi Newton. He later formed Blood on the Wall with his sister Courtney and Miggy Littleton, which released two critically acclaimed albums and toured last year with the Yeah Yeah Yeahs.
Lawrence's allure eventually pulled Shanks back, and since his return the reformed Bandit Teeth trio has revived their energetic take on garage and punk rock. The band is currently recording and anticipates releasing its first 7" next year.
Shanks, Downey and Zach Campbell recently joined lawrence.com to chat about reforming, their favorite music and their secret affection for one another.
No-fi highlights from the podcast
lawrence.com: Brad, what did you do while you were in New York?
Shanks: I'm in another band called Blood on the Wall and I worked at a bar, had a clothing store, worked at record pressing plant, went to 53rd and 3rd, I turned tricks, I partied. That's about it.
What made you decide to come back?
Shanks: I'm from Kansas, I love Kansas. Every time I visited Lawrence I wanted to move back, getting to the point where I'd be in New York wanting to move back to Lawrence constantly. I told myself when I moved there that I'd be there for two to five years, then at five years I told myself to move out of this shithole and after two more years I finally did. And then I moved back home and it's been a dream ever since.
So you plan on sticking around for a while?
Shanks: Yes, I love Kansas. It's in my blood.
Charlie and Zach, are you guys from here?
Downey: Yeah, I'm actually from a place called Olathe. It's a Native American word meaning "beautiful." In fact all towns named after Native American words mean "beautiful."
Campbell: I'm from Illinois and moved up here last August.
Any reason to come to Lawrence?
Campbell: To play rock and roll. And I didn't want to move to a city like New York, for instance. My old band toured through here and I met people that worked at The Replay, that's how I got my job there. Illinois kind of got old, I've been there my whole life so it's time for something new.
Speaking of Blood on the Wall, I read that there might be a new album. Are they coming here or are you going there?
Shanks: I don't know yet. It comes out in (this month). I'll figure it out. I got a day planner.
How influenced are you guys by punk rock?
Campbell: Never heard of it.
Shanks: I pretty much gave up on having any kind of normal life because of punk rock. Got that Minor Threat tape, a Butthole Surfers tape and it was over. Then it was "jobs? Hate jobs." Screw workin', I'll play guitar instead.
Downey: Our two biggest influences are probably punk rock and Leonard Cohen.
Campbell: There was a reason I slept on a couch for several months.
Shanks: I've got high aspirations to get a day job which pays the bills, but: actually I don't. I would like a job that makes me cut my hair and get a suit. Can I get that please, finally? I thought eventually punk rock would fail on me and I would turn on it but it hasn't yet. I'm going to be 50 and playing guitar at the Replay.
Campbell: That's punk rock.
Shanks: No, that's sad. But I'll do it anyway.
Campbell: Maybe by then we'll have enough material to fill a half an hour.
How would you describe your music to people that have never heard it?
Campbell: A tour de force of non-stop party jams.
Any resolutions for 2008?
Shanks: To quit smoking? And to get Charlie to sleep with me.
Downey: We talked about this before, and the thing about Bandit Teeth is that there's this really intense sexual tension between Brad and I.
Campbell: Because I sleep with Charlie.
Downey: Yeah. I sleep with Zach, and Brad wants to sleep with me. I want to sleep with Brad, but I can't because it will ruin that chemistry.
Shanks: We have an artistic relationship. It's like a canvas, and I think we could splatter those kinds of colors on the canvas. But for some reason, Charlie's more of a minimal guy and he wants to do it by the books. So we just don't talk about it.
Downey: But if you just listen, you can hear it in every song.