Man-sized ice chunks drifted down the Kaw River toward Bowersock Dam. It was a tranquil sight:
:A blue sticky note stuck to a parking meter on the 600 block of Vermont Street warned: "This meter ate my money":
:Casey O'Donnell would like you to know that the CORRECT number for Meals on Wheels is (785) 830-8844. If you are an elderly person who needs food delivered, please refrain from calling O'Donnell-that is the OLD Meals on Wheels number.
"I thought that there was a certain amount of time before they could recycle numbers," he told Breaking News in an exclusive interview, "but apparently not."
Last summer O'Donnell got a new cell phone number, the same as the old Meals on Wheels number. O'Donnell, a 35-year-old English student at KU who likes the TV show Northern Exposure, the movie Never Cry Wolf, and the classic Charles Dickens novel David Copperfield, reports receiving half a dozen such calls a day at first.
"And then, finally, I took matters into my own hands and I put up my voicemail message," he said.
"Unfortunately, you have not reached Meals on Wheels," goes the message. "If you would like Meals on Wheels, please call (785) 830-8844. If, however, you called for Casey, this is his cell phone and this is his voicemail. So please leave a message and I'll get back to you as soon as possible."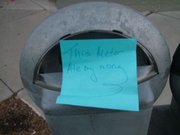 Not all are deterred, despite O'Donnell's policy of not answering calls from unknown numbers.
"It's really kind of funny," he said. "I guess it's kind of funny. Kind of sad too. Being Meals on Wheels, it tends to cater toward a less tech-savvy demographic."
During bad weather, particularly, he gets messages from people concerned about receiving their food.
The question of the moment: Why not change the number?
"Actually, I thought about it for a while," he said. "But, I mean, somebody else is going to have the same problem eventually, if I'm still getting calls five months after the fact."
Breaking News says you are a man of character, Casey O'Donnell. A loud salute.
-All facts in this story are real. Got a breaking news tip? Email Frank Tankard at frank@lawrence.com.
More like this story on Lawrence.com