Lindsay Mayer
Age: 21
Sign: Scorpio
Hometown: Dallas
Time In Lawrence: about a year and a half
Occupation: Student and hostess at Pachamama's
What were you doing when scouted? On my way to Kinko's.
Favorite stores? Checkers, The Bay Leaf, Waxman. The Junior League in Kansas City, and garage sales for clothes.
How often do you go shopping each month? It depends on the season. In the winter, about once a month.
How would you describe your style? For the most part, my style is comfortable and cheap.
Where do you get your hair cut? Headmasters by Nikki.
Favorite trend in fashion? I like big sunglasses, shawls, and wigs. I want a pair of high-waisted pants or jeans but I haven't found the perfect pair yet.
Photo Gallery
Style Scout: Lindsay Mayer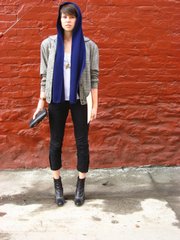 Least favorite? I don't really have one. It's more about knowing how to dress yourself and what's flattering. Although I guess I don't really understand the wallet chain.
Tattoos/Piercings? My ears are pierced. If I got a tattoo, I would get a picture of my face on my entire face. Or a cat's face on my face.
Favorite coffee shop? I like La Prima Tazza. I'm partial to their sugar cookies and bags of candy.
Favorite bar? Wherever you can get a good mimosa.
What would you like to see more of in Lawrence? I'd like to see more stop signs and more pedestrians.
What would you like to see less of? Stop lights.
Who are your fashion influences? Posh Spice. I love her haircut. The Sartorialist. My best friend and muse, Anna White. I like Alexander Wang's unique twists on classic ideas, I also like Marni. I get ideas from Vogue Italia, French Vogue, and style.com.
Tell us a secret: There is a video of my brother online running around Chicago in a diaper. You can YouTube "ice balls" to find it.
More like this story on Lawrence.com