Mark Swanson
Age: 56
Sign: Gemini
Hometown: Coffeyville
Time In Lawrence: 39 years
Occupation: Owner of Hobbs
What were you doing when scouted? Working in the Hobbs building on Mass.
Favorite stores? Hobbs, Spectators, The Bay Leaf, Silverworks, Goldmakers, African Adorned.
How often do you go shopping each month? I go shopping every day. I'm the exception to the rule; I'm a professional shopper.
Photo Gallery
Style Scout: Mark Swanson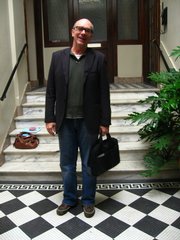 How would you describe your style? Modern.
Where do you get your hair cut? Lada Salon.
Favorite trend in fashion? I like the recent move towards wearing suits and a more classic attitude in dressing. I've noticed the suit business has risen, and ties are also coming back.
Least favorite? Crocs. I hate crocs.
Favorite coffee shop? I had a really good cup of coffee at Milton's last week.
Favorite bar? I like Teller's because I feel comfortable there.
What would you like to see more of in Lawrence? I want to see more independent, specialty retail downtown, and more combination establishments. Anything that brings personality downtown.
What would you like to see less of? Less snow and more sunshine.
Who are your fashion influences? YSL, Calvin Klein, and Ted Baker. I always like Johnny Depp's style, and I like the look of George Clooney.
Tell us a secret: I don't have a secret.