Free band name suggestions: Brick Sonic View, Enter the Cruzer, Indelible Swine, Project Project, Gangrene Vixen, Blister Kiss, This Band Is Seriously F*cking Scary, Audacity of the Romans, Avarice & Lotta Gall, Dirty Fink, Dildo Fever, Vile Vagabondz:
:A dirty diaper recently troubled passersby on the stairs of an apartment building:An aging orange hardened atop a desk:
:There was a time when Adam Wesely was known in certain circles as a lucky man. A native of Omaha (median income $51,752), Wesely graduated from KU in 2005 and ditched his homeland for Japan (inflation rate 0.2%). An exclusive electronic mail correspondence transpired between Wesely and Breaking News on the subject of Lady Luck: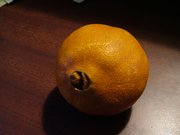 BREAKING NEWS: Please detail everything you have ever won (as much as you can), including what you won, when you won, and what the contest was. Do you get a premonition that you're going to win before it happens? Are you lucky in general or just in certain ways, like giveaway contests? Is your good luck balanced out with bad luck, or not?
ADAM WESELY: I'm not sure that I'm good material for your article. I don't really consider myself a lucky person, whenever I mentioned always winning stuff, well, I probably was just spouting shit. I always lose at bingo, and : poker or any game where skill might be involved besides luck. I did win the Hawk's Nest B-Ball party raffle a couple times but that's only because I folded my ticket in half, which apparently caused the guy to pull my name out two weeks in a row. Guess it's easier to grab. I won an mp3 player the first time and then an Xbox the time after. I won 200 yen ($1.87) the other day, the first lottery ticket I've ever purchased. That's about it though. My bad luck more than balances out my good luck.
-All facts in this story are real. Got a breaking news tip? Email Frank Tankard at frank@lawrence.com. Response may not be immediate, as future tip volume could be awfully high.
More like this story on Lawrence.com