This August, Lawrence's E.M.U. Theatre will celebrate10 years of broke-ass independent productions that somehow manage a consistent quotient of awesomeness. Such undertakings rely on the tenacious dedication of the E.M.U. crew, the support of the community and places like Ecumenical Christian Ministries, which has hosted countless community events throughout the years.
Now that the Oread Inn development has gobbled up the prime near-campus property adjacent to ECM (a not-for-profit ministry and activist center), E.M.U. is showing its solidarity for the continued viability of ECM by hosting a benefit production of David Ives' "Mere Mortals."
Photo Gallery
E.M.U. Theatre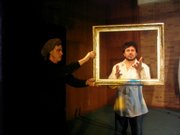 "We want to show that ECM is a viable space for the community," producer Nathan Cadman says. "They have a lot of improvements they have to make, and we're hoping to help them."
A couple months ago the ECM asked the Oread Inn developers, who plan to build a major hotel where The Crossing and Yello Sub used to be, whether they wanted to buy its building. The developers were interested, says campus minister Thad Holcombe, but the ECM ultimately walked away from a deal.
The plan would have been to tear down the building and let the ECM use about 8,000 square feet of space in a new building, Holcombe says.
"No. 1, that's not enough, and No. 2, we don't want the building torn down," he says. "So we went to the other option. That's what it came down to."
Past Event
Friday, January 25, 2008, 8 p.m.
Ecumenical Campus Ministries, 1204 Oread Ave., Lawrence
All ages / $8 - $12
Past Event
Saturday, January 26, 2008, 8 p.m.
Ecumenical Campus Ministries, 1204 Oread Ave., Lawrence
All ages / $8 - $12
The plan is to start raising funds to renovate the 48-year-old building at an estimated cost of $700,000.
E.M.U. cast its most experienced actors for this production, which employs slapstick sight-gags and witty dialog to tell six different stories of mortality.
"It's been a trial for us, doing a professional theater piece," Cadman says. "We're putting our best face forward on this one. If you don't like one piece, just wait 10 minutes."
"Mere Mortals" contains adult language and content is recommended for mature audiences.
The show will begin at 8 p.m. Tickets are $12 for adults and $8 for students and senior citizens. Tickets can be purchased at the door, the ECM or the Lawrence Arts Center (in person or call 843-2787).