Alison Ryan
Age: 23
Sign: Cancer or Gemini (on the cusp)
Hometown: Tulsa, Okla.
Time In Lawrence: 6 years
Occupation: Childcare Worker
What were you doing when scouted? Drinking coffee
Favorite stores? The Bay Leaf, Au Marche, and the Dusty Bookshelf. I sometimes find clothes at Kieu's, and I also borrow clothes from my friends.
How often do you go shopping each month? I probably go shopping only a couple times a year.
How would you describe your style? I wouldn't be able to describe my style at all. I wear a lot of black in the winter.
Where do you get your hair cut? I go to Static and Andiy cuts my hair.
Photo Gallery
Style Scout: Alison Ryan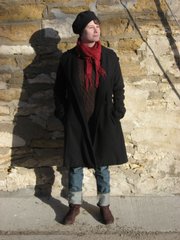 Favorite trend? I'm liking coats with bold prints.
Least favorite trend? There's nothing that I don't really like, I don't really care that much.
Favorite coffee shop? Probably The Pig. It's nice to go during the day, and I like the lighting and the music.
Favorite bar? Pachamama's makes good drinks, and I like going to the Tap Room because it's like going to someone's basement.
What would you like to see more of in Lawrence? I'd like to see more community activities, like the Film Noir screenings last summer. I'd also like to see more music coming through town.
What would you like to see less of? I like things the way they are. I like the diversity here.
Who are your fashion influences? My influences are my friend Rica and Audrey Hepburn.
Tell us a Secret: I want to be a magician at some point.
More like this story on Lawrence.com