Tyler Baker
Age: 24
Sign: Aries
Hometown: Springfield, MO
Time in Lawrence: 7 years
Occupation: Bartender/server
What were you doing when scouted? Drinking a Bloody Mary
Favorite stores? The Merc, Wil Mman Vintage, and Jensen Liquor.
How often do you go shopping each month? I go shopping about once every two months.
How would you describe your style? Raggedly sophisticated.
Where do you get your hair cut? Kevin at Static
Photo Gallery
Style Scout: Tyler Baker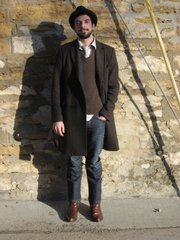 Favorite trend? I like cardigans and suspenders.
Least favorite trend? Fleece jackets and polo shirts
Tattoos/piercings? I have the word 'poem' tattooed on my arm.
Favorite coffee shop? It depends on my mood. I like Henry's and The Pig. The Pig feels European and comfortable.
Favorite bar? I like the Taproom. I go there for Prashant. He makes the best drinks.
What would you like to see more of in Lawrence? I feel like in Lawrence, we have a lot of avenues for art but not for writing. I would like to see more public support for writing.
What would you like to see less of? Less football game traffic and less parking tickets.
Who are your fashion influences? Tom Waits has a raggedly, eclectic jazz style about him. I'm also influenced by my friends.
Tell us a Secret: I had nightmares every night for three months after seeing "Ernest Scared Stupid".
More like this story on Lawrence.com