Audio clips
Langston Hughes Literary Awards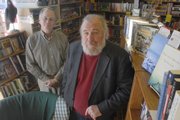 Sometimes, writing is an escape, a way to get away from the things that pay the bills.
That's the case for this year's winners of the Langston Hughes Literary Awards: John Mark Connolly in fiction writing and Stephen Bunch in poetry.
"Both winners of the Langston Hughes award are people who have had very rich other lives professionally, and have come into their writing later - Steve with a sense of renewal, and Mark had never written at all until he was encouraged to write for his family," says Elizabeth Schultz, a retired Kansas University English professor who served on the judging committee. "Clearly, both Steve and Mark bring to their writing a sense of maturing and experience."
The awards, in their 12th year, are sponsored by The Raven Bookstore, 8 E. Seventh St., and the Lawrence Arts Center, 940 N.H. This was an especially competitive year for the awards, with 29 applicants in the poetry division and 23 in the fiction division.
The awards, which are accompanied by $500, are named for Hughes, the famed poet who spent his boyhood years in Lawrence. The award ceremony on Friday - at 7 p.m. at the Arts Center - will mark what would have been Hughes' 105th birthday, complete with a birthday cake.
Stephen Bunch
There was a time, back in the 1970s to late 1980s, when Stephen Bunch was a mover and shaker in the Lawrence poetry scene.
He graduated from KU in 1971 with a bachelor's degree in English, then finished a master's in 1979.
He was an active poet during those times, getting published in various publications, and he edited a poetry magazine, "Tellus," from 1978 to 1988.
But that year, when he quit the magazine, he also quit writing poetry altogether.
"I have never sat down to analyze it," he says. "There were things going on with kids and family. I know real poets deal with these things, too. I don't know other than I wasn't inspired to write."
That changed four years go, when, as he puts it, "the tap was turned again."
"I've probably written more in the last four years than I had ever written before," he says.
Now 58 and program development director at KU Continuing Education, Bunch spends much of his time writing copy for the division's catalog.
But he still writes poetry on the side. He often wakes up from sleep with ideas and jots them in a bedside notebook, then mulls them over during long walks before putting the poems down on paper.
"I do it because I feel I need to do it," Bunch says. "For me, it's a way of thinking about things, a way of making sense of things. If it makes sense to others, it's a bonus. I don't expect to be on the cover of Newsweek."
Mark Connolly
John Mark Connolly - who goes by Mark - spent much of his professional career writing regulatory documents for Southwestern Bell before retiring seven years ago.
That's a far cry from writing a novel aimed at teens.
"I never was really interested" in writing fiction, he says. "I never thought about it, really."
That changed during a conversation a few years ago with his daughter, a science fiction writer in Portland, Ore. He pitched a plot for a story she could write. She asked him why he didn't write it himself.
"It's Great to be Alive!" was the resulting novel. It was written between November 2006 and May 2007, and is about Fred, a 12-year-old who realized he is the next major change in the history of human development.
He and his friend, Gina - who turns out to be a half-sister - share traits such as a photographic memory, the ability to do math problems at an unprecedented level and amazing eyesight.
Connolly compares their gift to those of increased brain function and speech possessed by the first humans, who developed from genetic mutations from the species homo erectus, according to some evolutionary theories.
"It's happened before, 200,000 years ago," Connolly says. "It could happen again."
Connolly says the book is geared toward teens. He says writing the story - other than the pesky commas and quotation marks, and navigating the on-demand publishing site Lulu.com - wasn't that much different than telling his four children bedtime stories.
"When the kids were growing up," he says, "I'd tell them stories, and I made them up as I went along. I see myself as a storyteller, and in this particular time I tried to write it down."
Connolly based characters in the book on his children - who now range from ages 18 to 30 - and his wife. He says he already has ideas for additional books based on this idea, if he decides it's worth the time to pursue them.
Even at age 60, he says writing for a younger set isn't that difficult.
"You very easily remember what it's like to be 12 years old," Connolly says. "The basic character of people doesn't change that much from generation to generation."
More like this story on Lawrence.com