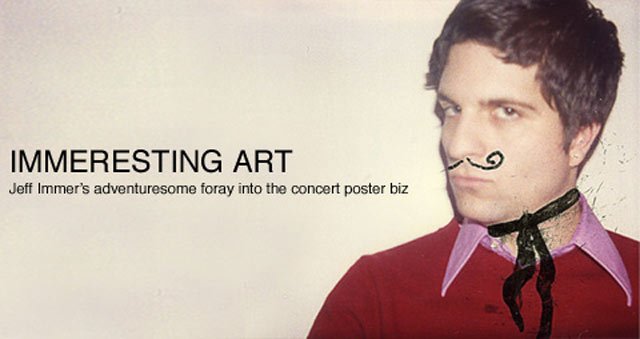 Attention, reader. A little advice to heed: Put down this paper, go to the bank, finagle a loan, buy a camera, and start a stock photography business. Call it "Diverse Fun." People like Jeff Immer would go to diversefun.com and pay for your pictures. It would be easy, and you'd get rich.
Immer knows this because he has a job in which he trolls stock photography sites looking for pictures-black-on-white handshakes and all that-in designing educational materials for the federal government.
"And make sure you get everybody in there, because sometimes I feel like I'm being really diverse, and it turns out that dude could pass for Indian or something, and that's just not going to cut it," he says. "They want the clear black-and-white friendship."
Fascinating, right? Well, hold on, because that's just Immer's day job. And despite the fact that this article has now given you a one-of-a-kind moneymaking scheme, that's not even the subject.
Immer, you see, is having an art show (trying to get rid of a bunch of concert posters he couldn't sell) at Love Garden. Jams will be spun. Wine and heart-shaped cookies will be served.
Photo Gallery
Immer-esting Art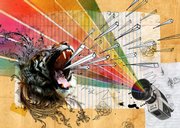 Immer started making concert posters last year with fellow-Lawrence artist Travis Pesnell. How it worked was they would contact a band they liked, or sometimes a band would contact them, and they'd make a poster for their Lawrence show. Immer fell in love with the art form and the process:
"Concert posters are sort of an informal, crappy thing to do," he says. "This might have been the first and last year that we do it."
One time they worked out a deal with The New Pornographers where they'd sell posters at the show and split the proceeds 50/50 with the band. They went a little overboard and printed 100 posters. Calamity ensued.
They showed up to the concert carrying their towering stack of posters, and no one at the merch booth had heard of them. In fact, someone else was already selling posters, and they were told to leave. Later on the band's management apologized and did offer to buy the posters back.
Recurring event
Love Garden, 822 Massachusetts, Lawrence
All ages / Free
"I don't remember the exact number, so I hope I don't bite myself in the ass by exaggerating the story too much, but it was somewhere in the neighborhood of $30," he says. "We'll buy all 100 posters that you worked on for about $30.' Man. Ouch. That's an example of bad poster-to-band communications."
Enough sob story. No need to induce your tears, sympathetic reader. Immer survived. In fact, he says he liked doing posters for bands like Caribou and Black Moth Super Rainbow, and will do it again if he gets the chance.
On Friday he'll also be selling other cool stuff that he makes under the moniker BiKlops Design, including a series of screen-printed silhouettes, handmade Valentine's cards and some mixed media work.
Past Event
Friday, February 1, 2008, 7 p.m. to 10 p.m.
Love Garden, 822 Massachusetts, Lawrence
All ages / Free
Immer is also going to be doing the art and design stuff for a new Love Garden record label. Stay tuned. In the meantime, he has some words for you if you want to start making your own concert posters.
"You're usually buying paper and inks to make something great for a band you really like, and you have to be pretty amazing and well known to turn it into a profit," he says. "I think you should be really happy if you break even, but it's a really cool and fun design challenge. If you like the band, it's worth it, but don't try to get rich."
If you do want to get rich: stock photography.
More like this story on Lawrence.com