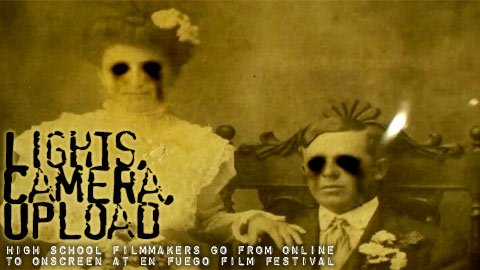 Kids film the darndest things. Like a disturbing hallucinatory journey through mucous and madness called "Influenza." Or a one-man band rendition of Cutting Crew's "(I Just) Died in Your Arms Tonight" featuring wicked keyboard solos and rudimentary stick figure animation. And even "B for Banana," a '70s cop show parody replete with fake mustaches and serial fruitings.
Although they lack the scope and budget of the latest Michael Bay atrocity, they're considerably more impressive when you consider they were made by freaking high school students. While a majority of our race fritters away youth on petty vandalism and freebasing the Pokemons, some rise above.
The Free State film festival currently called En Fuego has existed under different names and permutations since 2000, but its focus has always been on showcasing student work from high schools in northeast Kansas. Firebird Productions, a student filmmaking organization at Free State that's kind of like a nitro-injected AV club, is tasked with staging En Fuego.
Past Event
Saturday, February 2, 2008, 4 p.m.
Free State High School, 4700 Overland Drive, Lawrence
All ages / Free
"I guess it started just for fun," says senior Quinn Brabender, member of Firebird Productions, about the festival's origins. "We wanted to do something different from homecoming videos and doing stuff for the school, rather than being able to show the creative work of the kids."
Not that they've abandoned their bread and butter. "I'm working on girl's basketball right now for the Free State team," offers junior and fellow Firebird producer Pat Coffey. "But our real goal is to be ready for the festival coming up and making it the best we can."
They'll be juggling more than 30 submissions in 10 different categories from all over these parts. "We've got a lot from Kansas City metro schools, Emporia, Leavenworth, and LHS," says Free State film teacher Megan Spencer. "We want to get students' films in northeast Kansas out there and get other students to see what their peers are creating, how good it can be, and get some positive recognition."
The festival-and the growing trend of multi-media high school curriculum in general-serves to offer more than just the pomp of a mini-Cannes on the Kaw. "We are such a web-based world and technology-incorporated world," explains Spencer. "They're going to be able to use these skills wherever they go. I mean, I doubt that many of these kids are going to be filmmakers and directors as they get older, but the technological skills they're taking from this experience will help them later on in life."
In a digital video era, where the Drama Prairie Dog and Chris "Leave Brittney Alone" Crocker are king and queen, filmmaking has been absorbed as just another in a wide array of communication tools. "I've put a couple of my films on YouTube, just for people to see. Posted 'em on Facebook and stuff," says Coffey. "It's definitely a creative outlet."
"I have an account on YouTube," echoes Brabender. "I kind of try to make at least one new video every two weeks or month. There're days where I don't have homework, and there's only so much you can do at home before you get bored, so I end up sitting down with a camera and trying to make something funny."
The En Fuego Film Festival aims to focus attention on these amateur auteurs and, as with the online videos they're fluent in, turn their enthusiasm viral. Says Ms. Spencer, "I just want people to come and enjoy seeing students' work, get a treat in the process, leave with creative ideas, and go forth to make their own films. I want to see the festival grow more and more each year."
More like this story on Lawrence.com