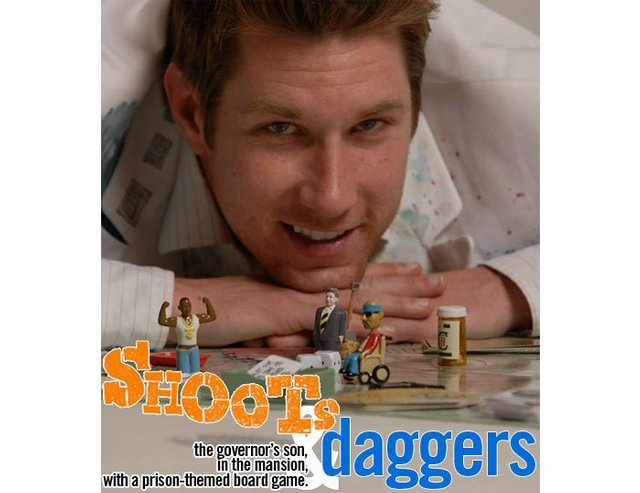 The big truck pulled up to the governor's mansion on a frigid morning two days after Christmas. In 600 boxes from China, John Sebelius' vision had arrived.
The driver climbed into the back of the truck and a crew of friends Sebelius had solicited lined up and hauled the boxes to the cleared-out two-car garage.
Fifteen minutes later the truck was gone, leaving the garage packed with a mountain of boxes-3,000 board games into which the 23-year-old governor's son had sunk $45,000 of borrowed money and a considerable stock of his future.
He had yet to see the final product, had yet to know if the print quality was the same on every game, had yet to know if the magnets inside the board worked with the corresponding pieces, had yet to know anything for sure.
(Was Milton Bradley this worried when a team of oxen delivered his first shipment of The Game of Life 150 years ago?)
Past Event
Thursday, January 31, 2008, 7 p.m. to 10 p.m.
(One-off place), Lawrence
All ages / Free
The path that lead Sebelius unexpectedly into the board game industry started as a two-week class project at the Rhode Island School of Design, when he created a weird, edgy game about trying to get out of prison. He called it Don't Drop the Soap. It was a hit with the class.
He brought his game home for Christmas. His family loved it. Their friends loved it. Being friends and family, they told him he should sell it, that he could make a million dollars and all that. That's how it got started.
Then he graduated in spring 2006 and moved to Chicago. He did freelance graphic design work, like logo design, calendar design, box design. He made a little money, but it wasn't the most interesting stuff. Especially when he had a million-dollar vision sitting in his pocket.
A year later he was back living at the governor's mansion to save money, with a big loan in his name and his future packed into those boxes, big and unsold and as imposing as a prison wall.
***
Sebelius' mom is the governor of Kansas. His dad is a federal magistrate judge. His brother is a law student at Georgetown University. His maternal grandfather used to be the governor of Ohio. His paternal grandfather represented northwest Kansas in the House of Representatives.
Sebelius, tall and thin with upright posture, showed up early for an interview at La Prima Tazza in a dress shirt covered with self-drawn ink illustrations.
At his table he had a hot chocolate, a copy of Don't Drop the Soap and a newspaper. The main story of the day was that his mom was picked to deliver the Democrats' response to the State of the Union Address. The secondary story was his mom's state budget proposal.
Sebelius had just had a meeting with Mark Swanson, owner of Hobbs, the first store to start selling the game. He has some meetings lined up with stores in Kansas City, and he's flying to New York and Philadelphia next month to pitch the game to bigger stores like Urban Outfitters.
He explains that he's just getting into the hustle of selling the game and learning how to do it as he goes along, just as he did when he designed it.
"I was completely fresh to the game-making industry," he says. His voice goes funny when he says 'game-making industry,' and he pauses. "I still think it's so weird that someone actually made this board game. That'll be my legacy. If I die tomorrow, I'll be the kid who actually owns the rights to Don't Drop the Soap. Trademarked here. My parents are so proud of me."
He says this sarcastically, but his parents really are proud of him. While his older brother, Ned, had career ambitions more in line with the rest of the family, John was different.
"Both (John's father) Gary and I knew a lot more about the kind of choices Ned was making, because they were more familiar to us," his mom, Kathleen, says. "The kind of schools he wanted to go to, the kind of subjects he was interested in, seemed more like what we had done growing up.
"With John, I was really trying to figure out, when he was high school, actually, what it was that he was passionate about. He did a lot of things very well. He played sports, he was in the plays, he sang in the chorus, he got good grades, but nothing seemed to really light him on fire."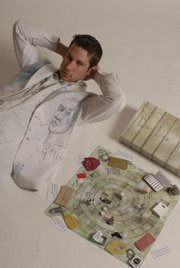 And then a high school art teacher took him to a portfolio day, where art colleges came to visit potential students. He spent the next summer taking figure drawing and steel sculpture courses at the School of the Art Institute of Chicago and the Kansas City Art Institute.
After Ned went to college at Harvard's John F. Kennedy School of Government, John went to the Rhode Island School of Design, one of the premier art schools in the country.
"I was definitely the quiet political member of the family," John explains. "My brother goes to Harvard for international business and goes to Georgetown for law school-he had to take on the flank of the lawyer/politician son. And so I can be the oddball."
It all sounds awfully familiar-the left-brained son and the right-brained son, the serious-minded son and the son who went his own way. Life continued to work within this prodigal son narrative when John moved to Chicago, where Sebelius is an anonymous name, and put his skills to work doing freelance design.
And then-what the hell happened? Why can't the governor park in her garage? Because Sebelius had an idea that he thought was great, and, by God, this is America. You know that idea you have that could make a million dollars? Sebelius' is called Don't Drop the Soap.
"I decided, you know what, if I don't do this now, I'm not going to be able to do it," he says.
***
Maybe now is a good time to mention that the game is completely outrageous. Here's how it works:
You pick between five prisoners, called "tokens": Sal "The Butcher," Anferny, Wheelz, Bag of Coke and The Glock.
You start in "booking" and roll dice to try to work your way to "parole." Everyone starts off with seven "packs of smokes," and along the way you draw cards that say things like:
"You set fire to your bunk while your cellmate robs the infirmary. He splits his take with you. Collect 5 packs."
"You denounce your gang and try and live a straight life. They aren't having it. Go to gang war."
"You dropped the soap. You are wack! Proceed to booking."
There are special spaces, including one where you are forced into a real-life arm wrestling match with one of your opponents. If you land in the same space as another player, you have a "prison brawl," in which you roll against each other and the loser goes back to booking.
When you finally get to parole you draw a card. You could draw, "You must have kissed some ass. The governor pardoned you," or, "You're an educated black man. Sorry. You obviously didn't get paroled."
Sebelius designed the original version of the game in two weeks, relying on a few articles, a few documentaries, the HBO show "Oz," and his imagination for the portrayal of prison life. While the cards contain the occasional pointed statement, it's mostly pure entertainment.
"I've strangely always been intrigued by the inner-workings of prison and gang life," he says. "Maybe because no one would ever accept me into a gang. I've never had to live that lifestyle."
While your old-fashioned granny might not appreciate the game, the Sebelius family did.
"I wondered where he learned as much as he did," Gary says, laughing. "But he assures me that he's not been away in detention or in jail anywhere to give him any special insights. And I think I would know about that."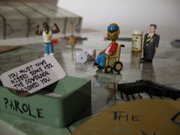 ***
With his million-dollar idea in his head and his game in his hand, Sebelius moved back to the governor's digs and set out to make his fortune.
He wanted to turn Don't Drop the Soap into a real, mass-produced board game, complete with glossy box, plastic pieces, directions, all the works. But he didn't know anything about the board game industry, or how to start a business.
One of his parents' friends who had played the game at that fateful Christmas gathering was Rudy Esquivel, who owns Sunflower Food & Spice Company.
"It was just amazing to see someone come up with that," Esquivel says. "It was all done by hand."
Sebelius had done some packaging design work for Esquivel, and Esquivel told him about a Kansas City-based company that could manufacture the game in China. Sebelius arranged a deal with the company, Discovery Concepts, to manufacture 3,000 copies (the minimum they would make). He'd have to pay $11 a piece plus some additional costs.
Beyond a two-week class project, he didn't know how to design a board game. Using a table, a pen, his prototype, a scanner, Photoshop and Illustrator, he designed the board, the box, the cards, the smokes, the playing pieces, plastic accessories that magnetically attach to the board, and sent the designs piece by piece to the company. There were lots of glitches.
"I basically had to get walked through the whole process like a newbie," he says. "The time it took could have been cut in half."
Meanwhile, on the business end, his parents helped him come up with something called a financial business portfolio and set up meetings with friends in the business world for advice. When he was ready, he showed his financial business portfolio to the bank and got a big loan.
"There really isn't a component of your college curriculum that deals with that very directly, at least in the places he's been made aware of. And art school is one of them," Gary says. "You would think that that would be important. But he's learning it by trial and error."
He found lawyers to work on trademark and copyright stuff. And he established a company and built a website to make it all legit. He called the company Gillius, Inc., a combination of his mom's maiden name, Gilligan, and Sebelius.
"I'd say, over the last year or so, it's consumed probably 70, 75 percent of his time," his buddy Nathan Hunt says, "making sure the game was getting launched and it was perfect as perfect can be."
All this added up to a year and $45,000 of borrowed money. And when he was done with the meeting and designing and paying and filing, he had to wait a month for the 3,000 games to make their way first across the Pacific Ocean on a boat, then across the country on a truck, and finally to the governor's mansion.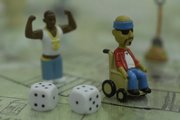 ***
All the pieces were in place when Sebelius opened that first box. The magnets inside the board worked. The color looked good. The next box looked good too. They all did.
"They turned out better than I could have expected before I started the project a year earlier," he says.
That brings the story up to the present, the moment of judgment. Time to hit the road and see whether his idea makes him into a genius or a fool.
He's selling them for $40 in stores ($34.99 on his website). That nets him $2.50-$9 per game, depending on the retailer's cut. He won't make his money back on the first 3,000. He's got to sell those, and then order more, and then order more. And then he'll start making money. If people buy.
He's starting out at small area stores like Hobbs, where he gets a higher percentage of the profit, but soon he'll be hitting up chains like Urban Outfitters. He might find more receptive buyers for something like this on the coasts, but he wants to start here.
"I've always been really prideful of Kansas, of that Midwestern thing," he says. "I've always thought that if something can work here-it's the same reason Pizza Hut started here, Applebee's, all that."
Plus, you can't beat free temporary room and board at the governor's mansion (although he plans to move in with a buddy in Lawrence this summer).
Just like when he didn't know how to design a game, and when he didn't know how to start a business, he doesn't know how to sell. He gave Mark Swanson of Hobbs a pretty good deal, selling the first shipment of games on consignment, meaning Swanson only pays him for the games that sell.
"A lot of places are a little hesitant, because I am, basically, my company. I'm not Milton Bradley. This game's not established at all," he says. His sales pitch is going to change a bit. "I'm going to be a little more of an asshole."
Swanson started carrying his hand-illustrated clothing line a couple months ago (this is another thing Sebelius has been doing, although it's been on the back burner since the games arrived), and says if the game sells as well as the clothes, he'll be buying plenty.
"In our business, you've got to have something that shows well," he says. "You're not going to sit there and play the game with somebody. You're going to have to talk it through-'and this is what it looks like and blah blah blah'-and go. And it either sells or it doesn't on that level."
Around here, the name recognition that comes with being the governor's son helps. At least it did in Swanson's case.
"I was wanting to see the game, let's put it that way," he says. "I wanted to see what it was all about. He's telling me the title of it over the phone and I'm thinking, 'This is the governor's son?' Let's take a look at this deal."
But it doesn't give him any sweet connections in the board game industry, or help him much outside of Kansas.
"I'm not trying to use her celebrity to get in the door," Sebelius says. "It's kind of a distance from her normal political life, because it's an edgier game, so I don't really use that. I just bring in the product, and it speaks for itself."
The game could, of course, wind up in the hands of people who aren't a fan of the governor. (Would you vote for the woman who raised the creator of Don't Drop the Soap?)
"That's going to happen," he says. "I was going to send Sam Brownback a free game, just for fun. I did wait for the game to get made, before she was re-elected. I didn't want that to happen, just for all questions' sake."
You might recall a couple months ago when a joke the governor made about the quality of Kansas wine at a fundraiser in Seattle made the news ("Sebelius' wine joke leaves bad taste in mouths," the Journal-World headline read).
"All they could talk about was wine for a while. Maybe they could talk about a board game," he says. "I say bring on the free press. I will take it on myself, because I'm different from her. She is a politician, she does her job, and I'm trying to start my own business that is edgy."
More like this story on Lawrence.com