John Sebelius
Age: 23
Sign: Taurus
Hometown: Topeka
Time in Lawrence: Moving to town in July.
Occupation: Designer/Entrepreneur
What were you doing when scouted? Doing a lawrence.com photo shoot.
What are your favorite stores? Hobbs, Arizona Trading Company, Shark's.
How often do you go shopping each month? Maybe 10 times. I go to Salvation Army every week. Today, 75 percent off, MLK special. I got 10 blazers and two trash bags full of dress shirts. $34. I killed today. I'm not going to have to go for months.
How would you describe your style? Urban preppy.
Where do you get your hair cut? Hair Concept in Topeka.
What's your favorite trend in fashion? The urbanization of preppy attire that Tommy Hilfiger launched back in '96. It's getting big again. Or pastel, bright colors. I like that a lot.
Photo Gallery
Style Scout: John Sebelius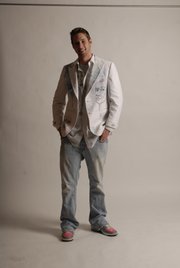 Least favorite? I don't like fur. Denim on denim. I don't like the Canadian tuxedo-denim jacket with denim jeans. Or skorts.
Tattoos/Piercings? I do not have any. How boring am I?
Favorite coffee shop? La Prima Tazza.
Favorite bar? It's really dependant on the day. I like Quinton's a lot. Or Red Lyon. Or I can be really classy and say the Eldridge.
What would you like to see more of in Lawrence? A roller disco. Nice restaurants that are relaxed, like a piano bar. A roller disco/piano bar, if they could somehow combine the two.
What would you like to see less of? Rich kids that are closed-minded-the ignorance of the rich.
Who are your fashion influences? I like the clothing company 10.Deep a lot. I like Ralph Lauren. I think they do really good, simple design. Gilliusinc.com -that would probably be one of my inspirations.
Tell us a secret: I think Michael Bolton is kick-ass.
More like this story on Lawrence.com