Sheri Martin
Age: 28
Sign: Leo
Hometown: Topeka, KS
Time in Lawrence: I lived in Lawrence for six years, but I've been living in Nanjing, China, for the past three years.
Occupation: Grad student
What were you doing when scouted? Listening to music on my computer.
Favorite stores? I like ATC and the Antique Mall, and just strolling around on Mass. going into all of the stores. I really miss the Casbah!
How often do you go shopping each month? Usually about a couple times a month, and I get most of my stuff tailored in China.
How would you describe your style? One of my biggest influences is the movie Blade Runner. I would say my style is futuristic, and I like things that are tailored.
Where do you get your hair cut? Wes at Headmasters.
What are your favorite trends? In China, everyone is obsessed with wearing really trampy, flashy tall boots. I really like boots on other people, but they're hard to find in my size.
Photo Gallery
Style Scout: Sheri Martin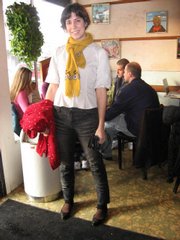 What are your least favorite trends? I don't like highlighted hair, and overly matching everything, or dressing really safe and conservative.
Tattoos/piercings? I have a couple of tattoos. One of them is on my chest and I designed it myself.
Favorite coffee shop? I like La Prima Tazza. It has good lighting and the music is always good. I think it's a better environment for thinking and studying than some places.
Favorite bar? I'd say Henry's upstairs. I smoke, so it's convenient. I like the Replay too, but I haven't been there since I've been back in town.
What would you like to see more of in Lawrence? I want to see more of a walking culture and bigger bike lanes.
What would you like to see less of? I'd like to see less chain restaurants.
Who are your fashion influences? My influences usually come from movies. I like futuristic fashion elements, like androids.
Tell us a secret: My cat was interviewed on Chinese television.