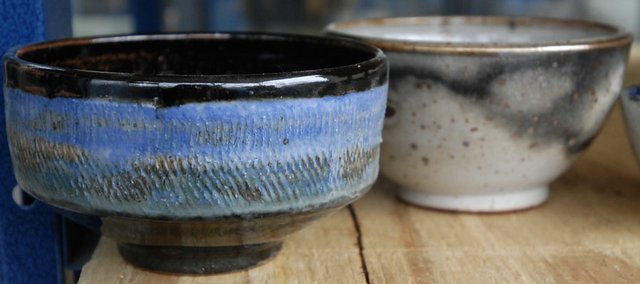 Thursday, January 31, 2008
Souper Bowl Saturday is here again, ready to make a fun game of soup, ceramics and fundraising.
The decades-old Lawrence Arts Center fundraiser gives the community a chance to snap up bowls crafted by potters, as well as enjoy piping hot soup and art-friendly atmosphere.
This year's event, which takes place from 11 a.m. to 2 p.m. Saturday, will feature some especially unique bowls - ones created by artists who participated in the National Juried Ceramics Exhibition and Symposium held during October at the center, 940 N.H.
"This last fall we had a big ceramics exhibition and symposium," says Ben Ahlvers, education director for the center. "And a few of (the artists) made some work and offered it to be put into the sale, so we've got those pieces. So that's something different this year. There are pots you're not going to find in this town for sure."
The symposium artists who donated work are Dan Anderson, Bob Archambeau and Brad Schwieger. Their bowls will be among the estimated 900 bowls up for grabs this year, about 200 more than were available in 2007. The minimum donation is $10 and bowls run $10 to $30. Soup will be provided from Hy-Vee, and the bread will be from Great Harvest Bread Co.