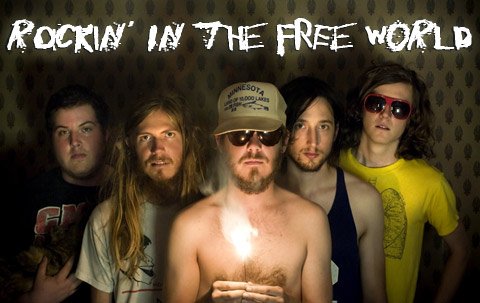 In the shadow of Memorial Stadium sits a residence commonly referred to as the Bull House.
This is because of a prominent bull statue that guards the entrance to the dwelling, the result of a former art student's senior project some dozen years ago.
But it isn't art students who have recently taken over the place. Rather it is four of the five members of the self-described "most patriotic band in Lawrence."
This is the home to Fourth of July, where every day is independents day - as in indie music.
"We're definitely the patriotic standard in Lawrence. We're all voting for McCain. We have bald eagles tattooed on our lower backs," deadpans Brendan Hangauer, who founded the band seven years ago.
Despite the sarcasm there are clues to the act's Red State potential found in the interior of the house, which Hangauer shares with younger brothers Kelly (bass) and Patrick (keyboards) and guitarist Steve Swyers.
A giant Kansas flag hangs opposite the orange and yellow living room which doubles as the band's rehearsal space. And a Warhol-style painting created by Patrick Hangauer features Gov. Arnold Schwarzenegger - although he's flanked by Patrick Swayze and Charlie Sheen.
Yet the full-size record bins - courtesy of downtown's Love Garden - are stacked with "liberal" LPs. And a curious African art vibe adorns the abode, including a blaxploitation-esque honey that hangs above the fireplace.
Past Event
Friday, July 4, 2008, 7 p.m.
Replay Lounge, 946 Mass., Lawrence
All ages / $3
Patrick Hangauer liked that image so much he duplicated it on his bass guitar.
In fairness, Fourth of July isn't really about the red, white and blue. It's all a bit of a patriot act - so to speak.
"I think it's just more confusing than anything else," Brendan says of the band's name. "It started as this solo project of mine. I was dating this girl, and everything revolved around her coming to town on the Fourth of July. But she lived in Omaha, so we broke up right after that, and that's when I started writing songs for the band."
Other than serving as a great calendar excuse to play a pair of shows today at The Replay Lounge, the name doesn't make things very easy the rest of the year.
"People will look at our fliers and say, 'Wait. This is on the Fourth of July? But it's September.' And they'll be completely confused," the 27-year-old Brendan explains.
Keep it simple
The bull flies freely at the Bull House, but so does the music and sense of creative collaboration among this family of musicians.
"All our songs end up being very different. I write my owns songs and everything but I'm not a good enough of a musician to rip anybody off," says Brendan, who composes every tune on a nylon string acoustic.
"A guy from one blog called us folk-punk. I was like 'perfect.' We're not exactly punk, but we do have the punk attitude."
That attitude shines through on the band's latest recorded effort, "Fourth of July On the Plains," released last summer. (Aversion.com wrote of the album, "Fourth of July is simple and straightforward on all levels - a refreshing change in this world of indie-snobbery where the complicated, convoluted and condescending are usually worshiped.")
"We try to keep it being about the songs Brendan writes as much as possible," says the 21-year-old Kelly Hangauer.
Kelly first joined the band when he was still attending high school at Blue Valley North.
He says, "I was coming up to play shows. Then I'd go back home that night. It's funny to see how the whole thing has progressed."
Past Event
Friday, July 4, 2008, 10 p.m.
Replay Lounge, 946 Mass., Lawrence
21+ / $2
That progression has turned into a touring juggernaut of which the members are particularly proud.
"We think of ourselves as more of a live band. Especially now; the band that is intact is by far the best band we've ever had. We just kill it live," says Brendan, a 2004 KU graduate in printmaking.
The Hangauer clan agrees that Fourth of July really coalesced once Swyers and drummer Costello became permanent additions.
"When I first joined the band I thought it would just be a fun thing to do around Lawrence," says Costello, the only Fourth of July member to not reside at the Bull House. "But then we played with The Faint in Omaha. Then all the sudden we're putting out an album. Then we're going on tour and playing in New York."
Costello - who goes by the nickname Bronco around his bandmates - claims less is often more in Fourth of July.
"Maybe one of our best traits is we keep it simpler than other bands. We're not trying to blow you away with crazy solos and stuff like that," he says.
Home on the Range Life
Part of the group's unity and general musical mojo stems from its association with Range Life Records.
Formed by Zach Hangauer, eldest of the clan, and former Anniversary frontman Justin Roelofs (a childhood neighbor of the family), Range Life has become home to all of the projects associated with the members.
"My brother Zach was in L.A., and he looked at Lawrence and thought, 'There's so much talent there that I need to go back and group it all together," Brendan remembers. "Range Life is basically all us working together."
In addition to putting out the "On the Plains" album, Range Life has been involved with other Hangauer projects such as Patrick's act 1,000,000 Light Years, and albums by Roelofs' White Flight and former Fourth of July singer Adrienne Verhoeven, who records under the name Dri. (Releases by even more Hangauer offshoots are potentially on the horizon, including Patrick's Free All Beats and Kelly's Hunters and Gatherers.)
"Sales aren't as high as they could be," Brendan says. (Fourth of July) has sold all right because we've toured. We've sold 1,000, give or take a couple hundred."
Along with the recordings, Range Life is also responsible for fielding a team in Lawrence's famed kickball league.
Former Fourth of July member Adrienne Verhoeven on performing with the band
"Playing with Fourth of July for me is like getting a firework shot up my dress (without the injuries, of course). Probably the most exciting thing I can imagine. It's a musically transcendental thing. Brendan and I are best friends, so singing with him is almost like we are at Free State having beers engaged in a REALLY good conversation."
"We're not that good. We're an expansion team. We just lost to Sacred Sword," Brendan says.
The team's official name is the Range Life Mario Chalmerses.
"There are always rumors (Chalmers) is going to show up to our games. But it never happens. One time a helicopter flew over and it was like, 'There he is,'" Brendan says.
Holiday celebration
Brendan recalls last year when Fourth of July released a video to its song "Be Careful."
"It got over 20,000 hits in a day on YouTube and was on the home page of the site. I think people thought it had something to do with fireworks safety," he says.
Brendan also reveals one odd and significant fact about the two shows the band plays today at the Replay: It's the first time in the group's history that Fourth of July will play a show on July 4.