Moldenke, the touring stinker, has filed a deed to purchase certain properties in the afterworld. Local legals say the properties do not exist. Moldenke says they do, at the edge of the city, and that he has seen them as recently as two nights ago. "They are vast. Their earth is black, rich and fecund," he told the City Moon. "It has arable soil, surprisingly rich in nutrients. A white cabbage grows there in profusion." With a wink to one of the Guards, the legal asked Moldenke, "This afterworld of yours. Do the wicked on Earth continue in their wickedness there, and the good in their goodness?"
Moldenke's answer: "Yes, in churches and nice homes. The wicked get worse, the good go bad, only the indifferent remain the same. The average Joe can't understand it."
- David Ohle, The Pisstown Chaos
The Pisstown Parasite has transformed masses of people into stinking, decaying wanderers. An all-powerful leader, Reverend Hooker, American Divine, is continually shifting people all over the place, from Pisstown to Indian Apple to Bum Bay to Permanganate Island, at random.
Folks don't drink beer. They drink Jake. They don't smoke pot. They eat willywhack. They don't drive cars. They pedal Q-peds. They live off of imp-meat, starch bars and urpmeal bread. Water is usually contaminated. Corruption is widespread. Manners are crude.
The Balls family-Mildred and her two grandchildren, Ophelia and Roe-are torn from their wealthy estate through Reverend Hooker's shifting program and kept on their toes by the whims of circumstance and Hooker's fickle, impulsive decrees.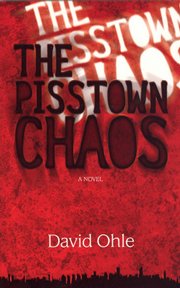 Characters come to accept their fates, protecting their sanity through passivity as their lives bounce from one random occurrence to another. Order isn't expected. Resistance seems useless.
This dystopian world that 66-year-old Lawrence author David Ohle has created in his third novel, The Pisstown Chaos, may take a while to acclimate to, but once this occurs there is a profound joy to be discovered in being enveloped by it.
The novel is preceded by the following quote by Reverend Herman Hooker, a real-life 19th century American preacher: "We die that we may die no more." In the world in which Pisstown takes place, this quote becomes the first and most important aphorism of the fictional Reverend Hooker's Field Guide, which every good Hookerite is expected to memorize.
Ohle says he was flipping through an old reference book, The Dictionary of Thoughts, when he came across the quote under the heading of "death."
"The Reverend Hooker in the book believes that death is insignificant, it doesn't matter, it's actually good for you," Ohle explains. "This is the fundamental philosophy of his way of looking at things."
Such distortions-social tenets sometimes spun backwards, other times in more arbitrary directions-are one of the defining features of Ohle's novels (Motorman, published in1972, and The Age of Sinatra, 2004, being the others).
In the 1970s and '80s, he and local journalist Roger Martin sporadically published an absurdist newspaper called the City Moon-which survives as the name of the newspaper in the world of Pisstown-and the unofficial motto that guided them was "stop just short."
"I don't want to over-explain things," Ohle once said of his writing. "Leave it kind of vague and uncertain."
The material is so strange-one critic compared reading The Age of Sinatra to "getting your head lopped off"-his novels are often misclassified as science fiction, which many small bookstores don't carry. "Satire is all it is," Ohle says.
The Pisstown Chaos is available at local bookstores, amazon.com and elsewhere. »
"The Age of Sinatra," by Venus Bogardus


AN ENGLISH ART-ROCK BAND EXPOUNDS UPON DAVID OHLE
David Ohle's novels haven't become required high school reading, or even sold very well, but ever since his first-and, until 2004, only-novel, Motorman, was published in 1972, there have been people whose affinity for his work runs deep.
Ben Marcus, acclaimed novelist and head of the MFA writing program at Columbia University, wrote in his introduction to the 2004 reprint of Motorman: "Motorman is the only book ever given to me photocopied in full. That's how hard to get it was, and how badly I wanted it."
One of the more random affirmations of Ohle's cult status occurred about three years ago when he received an email from an American expatriate from Bath, England, named Hannah Levbarg.
Levbarg and her husband, James Reich, had written a song called "The Age of Sinatra," inspired by Ohle's second novel, and performed it with their newly formed art-rock band, Venus Bogardus. They later wrote a song called "Motorman." The band has gone on to receive some acclaim, and they plug Ohle whenever they get the chance.
Here are a few of the things Levbarg had to say about Ohle's work:
How did you hear about Ohle and how did the "Motorman" and "Age of Sinatra" songs come about?
Levbarg: A talented poet friend in Austin who was friends with Ohle a couple of decades ago (when Ohle lived in Austin) gave us The Age of Sinatra in the summer of 2005 when we were visiting my folks. I read it and thought it was one of the best and most brilliant books I'd ever read.
I thought we should write a song about it-we were preparing for our first gig (before we even had a drummer) at the time-and we had some ideas, but then James suddenly just wrote the whole thing, although he hadn't even read the book yet. It remains one of my favourite songs. I was excited-found contact information for Ohle and sent him an email explaining that we'd made this song, and we were in touch periodically after that.
We read Motorman and thought that it should become a song as well, and felt it made a good album theme, in a sideways kind of way. This time, James had a kind of grating no-wave riff that we decided should become the song "Motorman," and I coughed up the lyrics. I like that both of the songs are very different from each other, partly because the books are so different from each other.
Tell me your impressions of his work.
I like the difficulty of trying to define Ohle's books. The writing is concrete and weirdly hyper-real, and terrifically blunt. Ohle's books are intensely uncomfortable exactly in the way that unpleasant but intriguing dreams are, even down to the variety and copiousness of inedible foodstuffs.
I like the intense and comedic-yet-terrifying moral ambiguity-the chronic mutability of ironclad, absurdist dogmas, that can land you in jail, shot, shouted at. ... In many ways there is a pervasive childishness, infantile simplicity, to the worlds in Ohle's books, and the people in them.
"Motorman," by Venus Bogardus