Devin Mills, mailer of fake packages
How do you save money?
"I live with my parents so I usually pack lunch for work. I like to keep cooking real simple with rice and hot sauce. I put eggs and onions and stuff in it. I also make peanut butter and honey with my Grandpa's honey-he's a beekeeper. I hardly ever buy clothes. These pants were $10 at H&M in Chicago and they're pretty much the only pair I ever wear. I'm going to sell my 1989 Toyota Corolla station wagon. I really don't ever want to have a car again."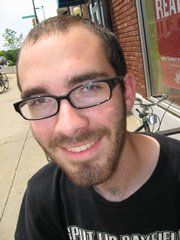 What do you splurge on?
"I haven't had any money lately, so I haven't had the desire to splurge. I would splurge on coffee, but I get it free at work. I work for a mystery shopping company and I make fake packages for people to mail at the US Postal Service. I weigh out 10 ounces of computer paper, wrap it in bubble wrap, put it in a manila envelope and seal it. Then I put five of those in a box and seal the box. And then I repeat. I probably make a couple hundred a day."