Annie Clark
Age: 20
Sign: Aquarius
Hometown: Kansas City
Time in Lawrence: two years
Occupation: Education major at KU, BoMo salesgirl, and Au Marche.
What were you doing when scouted? Straightening up some clothes at work.
Favorite places in Lawrence? BoMo, Urban Oufitters, Au Marche, Mad Greek, Chipotle, and Borders.
How would you describe your style? Simple sundresses with eclectic accessories. I'm always wearing a lot of gold jewelry.
Where do you get your hair cut? Usually I get it cut in Kansas City, but the last time I went to Headmasters.
Photo Gallery
Style Scout: Annie Clark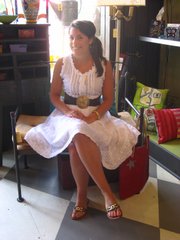 Favorite trends? I'm into dresses with belts, skinny jeans, bangles, and gold jewelry.
Least favorite trends? Popped collars, all white tennis shoes, really revealing clothing, and too- short jean skirts.
Favorite coffee shop? I like Java Break because it has a lot of different rooms, and it's a good place to study. It's open 24 hours, so that helps during finals week, and I like their hummus.
Favorite hangouts? I usually go to friends' houses, or anywhere downtown.
What would you like to see more of in Lawrence? I really would like to see more boutiques or cute unique clothing stores downtown. More restaurants in general, especially a good place for barbeque.
What would you like to see less of? Policemen on K-10 and middle school kids terrorizing downtown.
Who are your fashion influences? I'm really into 1970s style and bohemian style. My mom is a big influence, and I really like Kate Hudson's style.
What is your favorite cheese sold at Au Marche? I would have to go with the smoked gouda.
Tell us a secret: My boyfriend is Australian.
More like this story on Lawrence.com