Tom Kimmel
Age: 22
Sign: Capricorn
Hometown: Lawrence by way of Newton
Time in Lawrence: 7 1/2 years
Occupation: Wild Man Vintage, Tap Room, and student
What were you doing when scouted? Supposedly working at Wild Man.
Favorite places in Lawrence? The Bourgeois Pig, Aladdin Cafe, Cheese Shoppe, and Love Garden.
How would you describe your style? Hot beats, cool treats.
Where do you get your hair cut? My friend Jacob Muselman cut it the last time.
Favorite trends? Quirky accessories, dreamcatcher accessories, solid color button-ups, old school prep wear, and boat shoez.
Photo Gallery
Style Scout: Tom Kimmel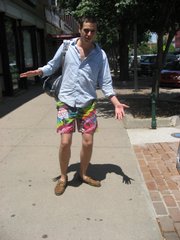 Least favorite trends? Junior high emo hilarity.
Favorite coffee shop? The Pig, because of the sense of community and the kind baristi.
Favorite bar? The Tap Room for the stellar beer selection and the cozy atmosphere.
What would you like to see more of in Lawrence? I'd like to see a more liberal use of the phrase "burpin' out," and maybe a 24-hour greasy spoon diner downtown.
What would you like to see less of in Lawrence? Regulated private pools, tough-guy bullshit attitude, and Nu Rave.
Who are your fashion influences? Stephen Malkmus circa 1995 and classic preps.
Most popular phrases heard at Wild Man Vintage? "What were the '80s like?" "Dude, I totally used to have this shirt!"
Last book read? Infinite Jest by David Foster Wallace.
Tell us a secret: Lately I've been watching videos on YouTube of people getting "owned"-ie, falling off of diving boards.
P.S, I'm single.
More like this story on Lawrence.com