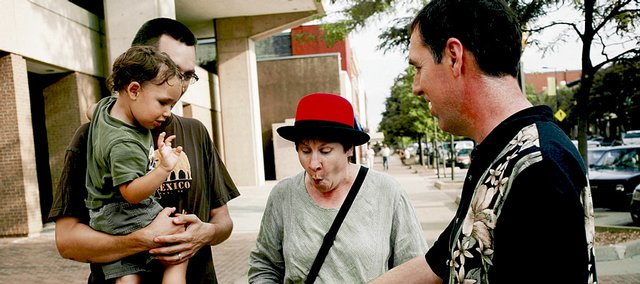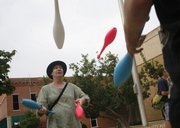 Plans for Lawrence's Busker Fest, featuring street performers ranging from human statues to sword swallowers, are coming together, as organizers toured the downtown area Wednesday evening.
Busker Fest is scheduled for Aug. 22 through 24.
Organizers were scouting performance locations to supplement the fair's four main sites: the corners of Massachusetts Street at Seventh, Eighth and Ninth streets, and Eighth Street between New Hampshire and Massachusetts streets, which will be blocked to traffic.
The Lied Center, the Lawrence Arts Center and the Lawrence Farmers' Market will also host events.
"We're finding events are a great way to bring people downtown," said Jane Pennington, executive director of Downtown Lawrence Inc. "It's just an exciting way for people to spend time with their families and see downtown in a little bit different light."
Organizer Richard Renner, a Lawrence street performer, said 10 acts will perform throughout the weekend, and that at least 25 applied to perform. Final decisions on who will perform have not been made, but he promised a variety of entertainment.
"We try to get the oddball things," he said, citing fire eaters and a straitjacket escape artist. "A lot of it is going to be stuff you've never seen before."
The festival was originally slated for Aug. 16 and 17, but it was pushed back to ensure Kansas University students would be finished moving in for the upcoming school year.
Busker Festival