On the street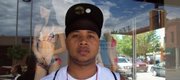 Past Event
Thursday, July 17, 2008, 6 a.m. to 9 p.m.
Downtown Lawrence, Lawrence
Not available
Recurring event
U.S. Bank, 900 Massachusetts St., Lawrence
Not available
Reader poll
More than six hours.

1%

8 votes

Three to six hours.

5%

32 votes

Less than three hours.

22%

130 votes

I'm not going.

70%

407 votes
577 total votes.
If you've been waiting for Thursday's downtown Sidewalk Sale, here's some sage advice, courtesy of Dan Hughes, president of Downtown Lawrence Inc.
"Arrive early, and bring lots of water and your walking shoes," said Hughes, owner of Sunflower Outdoor & Bike Shop, 802 Mass.
The annual event lasts from sunup until sundown on Thursday, and organizers expect tens of thousands of people to hunt for discounts.
"It's kind of a crazy carnival of bargains," Hughes said. "Most retailers use it as an opportunity to clear out stock from the previous fall or the previous spring," meaning consumers can take advantage of big savings.
Jane Pennington, Downtown Lawrence Inc. director, said most businesses have their most profitable day of the year during the Sidewalk Sale.
"All the merchants slash their prices, so it's a great opportunity for bargain shoppers," she said. "It's also just lots of fun because everyone's out on the sidewalk, and people are enjoying finding great bargains."
She said some businesses will provide entertainment, ranging from live music and DJs to barkers with megaphones.
Joe Flannery, Weaver's Department Store president, said the sale was a draw for people from across northeast Kansas.
"It's amazing how many people take the day off, not only in Lawrence, but all around eastern Kansas, and they just make a day of it in downtown Lawrence," he said.
Flannery said while people came for the deals, they also benefited from unique items sold by independent retailers.
"It's not merchandise that you would find in necessarily any other community in the area," he said. "I think that's one reason downtown Lawrence continues to be so viable, because people find things they can't find at other stores."
This is the 31st year that Downtown Lawrence Inc. has organized the event, but Flannery said he thought the tradition began in 1959.
Sidewalk sale schedule
The annual Sidewalk Sale will be from sunup to sundown Thursday in the downtown area.
A Brown Bag concert, featuring Billy Ebeling and the Late for Dinner Band, will be at noon in front of U.S. Bank, Ninth and Massachusetts streets.
The Lawrence Transit System will offer free rides from 6 a.m. to 8 p.m.