By the time a prisoner's letter reaches the mailbox of the Paul E. Wilson Defender Project, the hope of freedom has generally diminished to the level of pipe dream.
Many of the letters come from prisoners complaining that their attorneys-often appointed by the court-didn't meet with them often enough, didn't show much interest in their cases, didn't introduce key evidence, generally didn't fight for them. In other words, the prisoners complain of being shortchanged in the shuffle of an overtaxed system.
In an office crowded with law books and boxes of case files marked with names on the fourth floor of Green Hall, home of the KU School of Law, an associate professor with the Defender Project named Elizabeth Cateforis, a former state appellate defender who was a student intern for the Project years ago, says she opens at least 10 of these last-chance letters each week.
Some of them, she explains, "we just flat-out reject. They're either asking for help we don't provide, or they're past a time limit, or they've already done all the litigation that can be done."
The Project, founded in 1965 on a small grant KU law professor Paul Wilson received from the Federal Bureau of Prisons, deals exclusively with post-conviction felony cases in Kansas-some state, some federal-in which the prisoner can't afford to hire another attorney.
Audio clips
Last Defense
Before a letter reaches the Project, the prisoner has already been tried and convicted, had an appeal and had the conviction affirmed. The chances that the Project's attorneys will discover something important that was overlooked throughout this process-a key piece of evidence withheld by the prosecutor or ignored by the prisoner's attorney, a Constitutional right violated-are slim.
But that's precisely what the Defender Project is for.
Alma Monreal, of Dodge City, was convicted of strangling her newborn baby to death shortly after delivering the child in 2001. Arguing that Monreal's original lawyer was negligent, and proving so by introducing key evidence, including autopsy results that threw into doubt whether the baby was strangled, the Project won her a new trial. She pleaded guilty to a lesser offense and was released in 2007, receiving credit for time served.
Yes, plenty of people who send letters received a fair trial, says Project Director Jean Phillips, who, like Cateforis, is a former state appellate defender and one-time student intern for the Project, "but then we can get the Almas, and we can look at this and go, 'My God, this woman did not kill her child.' You feel good about that."
In 1996, Thomas Mullins, of Leavenworth, was convicted of molesting and sodomizing his son. The Defender Project got the conviction reversed in 2002 after discrediting the charges-leveled amid a hotly contested custody battle-and establishing that his previous counsel was ineffective. The state never reprosecuted the case. Mullins sent the Project a dozen roses as a thank you.
On Monday, the Project argued in a Johnson County courtroom that Ken Haddock, of Olathe, was falsely convicted of murdering his wife nearly 16 years ago. The state had argued that forensic evidence, including hair and blood, tied him to her death. The Project argued that recent DNA evidence had proven otherwise. (Results from Monday's trial were not available before press deadline. Updates will be posted in this story online when available.)
Photo Gallery
Paul E. Wilson Defender Project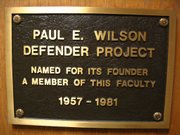 What Monreal, Mullins and Haddock have in common is that the lawyers of the Defender Project believe they were incarcerated for crimes they didn't commit. Yet innocence is far from a universal trait among the cases they take. Many of their clients don't dispute their guilt, but argue that they were wronged nonetheless in their way through the system.
For the Project's student interns, like Tom Knutzen, a 25-year-old second-year law student from Lawrence, the concept of defending the guilty can take a while to latch onto.
"You definitely still do a diligent job in checking out the issues," he says, "but it's not the same as when there's actual, real hope of getting someone innocent out of prison."
While Knutzen has spent one chunk of his summer helping with Haddock's case, he has also worked on the case of a man who is no doubt guilty, he says, of cocaine possession. However, the way a police officer went about seizing the cocaine from the man's pocket, he's arguing, is illegal.
In this case, a claim to the moral high ground isn't as indisputable as when he's working to free a man who he believes is innocent. In fact, he is trying to get an offender off the hook for the type of thing a hardboiled TV detective would no doubt curse as a technicality.
Phillips stresses that if the rights of the accused weren't rigorously defended, for the guilty and innocent alike, the justice system would fail.
"If the prosecution were all there was to it," she says, "we wouldn't have a trial; the prosecutor would just say, 'This person is guilty,' and you'd say, 'All right,' and the guy would go to jail. The whole point is that sometimes the prosecution is wrong. Sometimes there's another side of the story. Sometimes they got the wrong person or maybe the person wasn't as culpable as the prosecution thinks they are.
"To me, it's a way to check the system. It's a way to check the state from unbridled power. And, without waxing philosophical, you look at what happened with Guantanamo Bay-what happens when you have unchecked power."
Although some of the clients have committed heinous crimes, Cateforis reminds the interns that this doesn't mean they're subhuman.
"We always tell our students, 'There but for the grace of God go we,'" she says. "They're sometimes people that are a lot more like you and me than we want to admit."
Toiling away on often menial, tedious research in a sunny, sparsely decorated room with four computers to share, 18 to 20 law students typically enroll in the Project for two semesters, fall and spring. An additional four or so enroll for the summer.
Each student usually spends the bulk of his or her time working on just a couple of post-conviction cases under the supervision of Phillips and Cateforis. In addition, each student works on one direct appeal case for Rick Kittle, an attorney with the state appellate defender office.
Although the students aren't typically the ones who argue a case before the judge-Phillips and the Project's fourth attorney, Alice White, bear that responsibility-the pressure can be immense. For many of the students, including Knutzen, it's the first time in their budding legal careers that real lives are at stake.
"I think if you focus on that on a theoretical level, when you realize that the Constitution protects the innocent and the guilty the same way," Knutzen says, "you realize you're working not only for your client, but you're really upholding the Constitution, in a way." »
Jana Mackey Remembered
On Tuesday, July 1, Jana Mackey sat down at a table in the office of the Paul E. Wilson Defender Project and talked politely with lawrence.com for 20 minutes about her five weeks of experience defending Kansas inmates.
Of the four KU law students enrolled as summer interns for the Defender Project, Mackey and one other student, Tom Knutzen, happened to be the ones in the office that afternoon working on their assigned cases.
On Thursday, July 3, Mackey, 25, was found dead in the Lawrence home of Adolfo Garcia-Nunez, her ex-boyfriend. Police say she was likely killed one day earlier. Garcia-Nunez, a 46-year-old artist who had spent time behind bars for assaulting an ex-girlfriend in 2004, was found hanged in an apparent suicide in a New Jersey holding cell that Saturday morning, after being arrested on suspicion of murder.
Elizabeth Cateforis, one of the Defender Project attorneys who had worked with Mackey this summer, remembered her as a smart, mature young woman who worked hard and could liven up the small office with her sense of humor.
"She did quite the impression of one of the attorneys she spoke with," Cateforis said. "It was irreverent, but in the clinical world which emphasizes the client's story, Jana's imitation fit right in."
Remnants of Mackey's work, such as her box containing feedback from the Project's supervising attorneys, served as a reminder of her recent footprint in the office, said one of the student interns.
Returning to their work in defense of clients who have been convicted of felonies-often for violent crimes-has been difficult, he said. Mackey herself had been poring over transcripts from a murder trial in which the Defender Project plans to argue that the convict's counsel was ineffective.
Mackey, originally from Hays, was heading into her second year of law school after earning a degree in women's studies from KU in 2004. A women's rights activist, she worked for three years as a lobbyist for the National Organization for Women and was a volunteer advocate for the GaDuGi SafeCenter.
Speaking in the Defender Project office on July 1, she said that she had enrolled in the time-intensive class to gain perspective on defense work, but that she had entered the law school with the original notion of becoming a prosecutor. »