Four Lawrence women-a practicing witch, a daughter of illiterate Tennessee sharecroppers, a bisexual anarchist and a poetry professor-are reading poetry in the same room on Saturday, and they're afraid that if you attend, you might explode.
"Part of what drew me to this reading, and to do something that's a little more outrageous compared to mainstream literature, was to pull together people who had been putting things out there that are just wildly and unabashedly alive," says the professor, Caryn Mirriam-Goldberg. "Poems that really have some resonance, and vibration, and pizzazz and surprise to them."
One could go on, but four short poems are worth four thousand long paragraphs.»
Past Event
Saturday, July 19, 2008, 7:30 p.m.
Raven Book Store, 6 E. Seventh St., Lawrence
All ages / Free
Self-Portrait Before Birth
The roundness of this pond carrying its own landscape
of sound: mountains in wind, old vacant lots,
roads under construction, roots banging against each other.
All the trees shedding cells to cling to the new one
until they aren't themselves anymore. Toes tumble overhead.
A resting place, hot and round; a small, spun forest
into what will be a girl, the spiderweave of the brain
so fresh nothing has gotten caught to death there yet.
Turn over, aim hand to mouth, miss again. Roll over.
Dead leaves under which so much grows, not yet fruited
out on the vine. Everything seed and dirt in the constant rain:
brush of dead starlight on surface of old ocean.
-Caryn Mirriam Goldberg
Sweetie Pants
Audio clips
Meter maids
I send you
dine and dash
love note kisses
and tangerine hugs
from lightening bugs
and problem-solving butterflies.
I wish you
moon cookies
and butter sleep
created by
transformation biking
near the dishwasher,
sweat heart yogurt,
and other festive gifts
in psychedelic flight
through the heavens of dreams
of squealing life.
-Chantel Guidry
Seed Koan
Before blossom,
Bud.
Before bud,
Stick.
Before stick,
Root.
Before Root,
Seed.
Before seed,
:::
AH!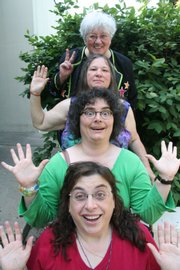 -Nancy Hubble
In Spite of Everything
In spite of everything that's been spoiled in my life,
The losses piling up like ancient compost in the backyard
Of my psyche, the rotted dreams and midnight screams,
Spilled ice cream and bitch ice queens, in spite of bitter
Oranges and the persistence of garbage
Lost teeth, and opportunities
Waving goodbye and disappearing forever
In spite of relationships
Turning out the way they do
Having to give up the cherished notion
That another person can save you
In spite of aging, and the ultimate humiliation
Of the body, the grinning, squirming nightmares
That wake me in cold sweat at three a.m.
I find my life grows precious beyond any good sense
The mornings fill with gratitude and birdsong
And I find that nothing matters at all-
Nothing except love.
-Dixie Lubin