Dan Smith
Age: 20
Sign: Sagittarius
Hometown: Lawrence
Occupation: Sales associate at Urban Outfitters/illustration student at KU
What were you doing when scouted? Being a very diligent worker at Urban Outfitters.
Favorite stores? Love Garden, ATC, Wild Man Vintage, Checkers, and various garage sales.
How would you describe your style? Trying to look like I'm not trying. I guess my style is a little apathetic and a little irreverent. I dress a little bit geeky.
Where do you get your hair cut? Emma is my personal hair stylist of many years.
Favorite trends? Sneakers are pretty much my main concern. I try to track down hard to find sneakers. I like simplicity, and I like wearing the same clothes for days. On girls, I like when they wear flowers or spoons or random objects in their hair.
Photo Gallery
Style Scout: Dan Smith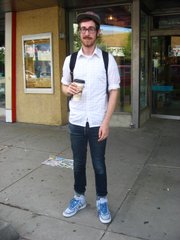 Least favorite trends? I'm not too into flip-flops, and I don't wear shorts or tank tops.
Tattoos/piercings: I just got a tattoo recently by Steve at Big Daddy's. It's of gears, because i'm really into robots. My parents don't know I have it.
Favorite coffee shop? Aimee's because the coffee is good, I know everyone that works there, and the food is unnecessarily good.
Favorite bar? I like the Jackpot because the layout is cool and it emphasizes who's playing and puts the attention on the music.
What would you like to see more of in Lawrence? More graffiti artists, more biking, and more arcades for the youngsters.
What would you like to see less of? People in cars honking at me when I'm riding my bike. And shoplifters.
Who are your fashion influences? Pharrell Williams and my grandfather.
Tell us a secret: I've never washed the pair of jeans that i'm currently wearing. Ever.