Rica Carney
Age: 24
Sign: Scorpio
Hometown: Tulsa, Okla.
Time in Lawrence: 5 years
Occupation: Dance student/bartender at the Gaslight/waitress at La Familia
What were you doing when scouted? Just got done eating at Free State.
Favorite stores? Love Garden, Forever 21, Wild Man Vintage, and African Adorned.
How would you describe your style? My style definitely changes with my mood, but I'm constantly in a dress. I always like to wear bold, colorful accessories.
Where do you get your hair cut? Head Rush by Cora.
Favorite trends? I love gold accessories, and I wear a lot of color in the summertime. I really like vintage styles, summer dresses, hoop earrings, and rompers. I also like when guys wear fedoras.
Least favorite trends? I really don't like collegiate wear-especially with the clever little sayings. I also am not a fan of designer purses with the logo all over them.
Photo Gallery
Style Scout: Rica Carney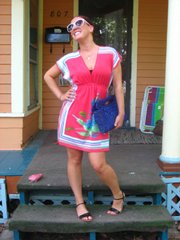 Favorite coffee shop? I like Milton's because their heavenly latte is heavenly.
Favorite bar? I like the Gaslight Tavern; it's the cutest bar in town. I also like The Replay because of the outdoor patio, and I go to Harbour Lights a lot.
What would you like to see more of in Lawrence? I wish we had a 24-hour diner on Mass. Street It also would be nice to have a better supported hip-hop scene.
What would you like to see less of in Lawrence? Bad tippers.
Who are your fashion influences? I'm really influenced by everything. I'm into different stuff depending on the weather and my mood. Lately I've really been into youthful fashions, basically stuff that was popular back in our childhood. I'm not really influenced by celebrities, although I think Natalie Portman is well put together and not flashy.
What songs get you on the dance floor? Anything by A Tribe Called Quest. Spank Rock. Neon Neon.
Tell us a secret: I'm really afraid of aliens.