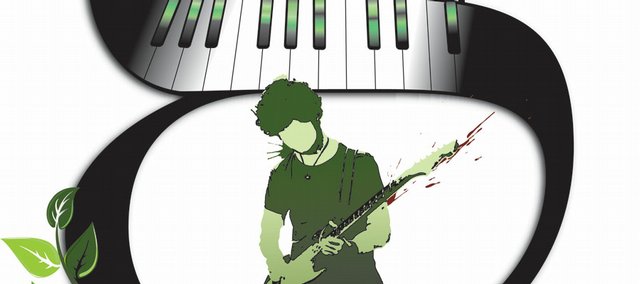 When Chris Yager decided to launch a music festival, he experienced a rude awakening.
He proposed the idea to Earth Rising Inc., a group that owns Camp Gaea, a 168-acre spiritual retreat center 10 miles north of Tonganoxie. Yager hoped to stage his festival at the scenic, isolated sanctuary that once functioned as a church camp.
The concept did not go over well.
"They were concerned about it turning into this big party," Yager says. "I understand. I've already been through the big party stage, and I'm ready to develop and move forward. They said, 'The challenge is for you to educate and have a point - then we'll agree to it.'"
So after enduring several board meetings, Yager and his staff finally convinced the proprietors to embrace the Gaea Retreat and Music Festival, which begins at noon today.
"We've spawned into this weird festival where it's a mesh of cultures. We have introduced education through imagery by focusing on things like the environment, free energy, energy conservation alternatives, performing arts," he says.
"It's more of a social experience than a music festival. I think of it as a cultural brothel - though I hate to use that phrase."
Those at Camp Gaea might not be too comfortable with the phrase either.
The venue has spent years living down its reputation as a haven for nudists and pagan rituals. This was in part due to the publicity revolving around a 2001 lawsuit Earth Rising filed after neighbors pressured Leavenworth County to revoke Camp Gaea's permit. (A compromise was eventually reached out of court.)
Since then, the site's board of directors has worked hard to alter its anything-goes notoriety.
"We have a little of that reputation which we're hoping to break," says Chris Byram, president of Earth Rising.
"We have a lot of people come out there who are Catholic or Christian. They come out there just because there is not the cultural hold over everything you do. You don't feel like you're constantly being judged. We're not a nudist camp. Personal nudity is a spiritual and personal choice. It's not anything we encourage or discourage. We have certain areas that are clothing-required, such as the main public buildings and areas around the outlying gates."
In fact, Byram admits he has never gone nude on the Camp Gaea premises.
"I have clothes on right now," he says, laughing.
Pooling talents
Yager was initially distressed that his festival was forced by Earth Rising to head in a different direction.
"We weren't prepared for it. Then I turned it into a positive. Now we have a point. Now we have a purpose," he says.
So Yager, a former Lawrence resident who recently moved to Kansas City, adopted the concept with reckless abandon by turning to his staff and determining what talents they had to offer.
One was an advocate of the energy crisis point; another an expert on entanglement theory.
For Yager, he had just experienced a home birth with his girlfriend seven weeks ago, and he decided to speak to the benefit of that trend by recruiting a midwife activist for the festival.
"If one girl goes to the festival and decides to have her baby at home, my job is done," says Yager, who named his daughter Merridy, which means "a happy song."
"She was named after this thing," he says of the concert event.
Other education-oriented aspects to the Gaea gathering (which is taken from the ancient Greek word for Mother Earth) include performing arts preservation, fine arts preservation, drug decriminalization and ways to improve gas mileage by building hydrogen cells.
In addition to various speakers, Yager has assembled informational DVDs to air on projection screens in-between the bands.
"We're going to open up some really touchy subjects that most stock model events wouldn't even touch," Yager says.
Increasing scope
A year ago, Yager was simply another guitarist in Lawrence trying to start a band.
He threw a few house parties to get the word out about his group, Bad Sushi, and the events started to balloon.
He marshaled three Lawrence bands - Truckstop Honeymoon, Fast Food Junkies and Deadman Flats - and took them out to Perry Lake for an event called Lost Family Reunion.
"There wasn't enough food for everyone. There wasn't enough light," he says. "But for being underbudgeted and amateurly planned, it went way good. ... It hit about 400 people. It didn't make it to my idea of a festival; it was a gathering."
For the upcoming event, Yager says he's recruited a staff of about 100 people that includes such necessities as emergency response teams.
He's also increased the amount of musical acts from three to more than 40. Bands and DJs are trekking in from places such as Michigan and Nebraska.
"Most are friends or people I've done gigs with," Yager says. "The others came from posting bulletins on MySpace."
Despite the increase in artists and activities, attendance at Camp Gaea (pronounced guy-uh) is capped at 750.
Byram says, "When speaking with Chris Yager, he's just got such a really good sound mind for finding that even balance between having a music festival that has a community behind it. It's not just music for him; it's also about building that community. It's getting the 18-year-old kids to find that realm of evenness and spiritual soundness."