QuickView
Good: Combat, weapon variety,
Bad: Horrible camera, story
While legions of Xbox fanboys praised Ninja Gaiden as the greatest action game of all time, I never quite understood what they thought set it above similar titles such as Devil May Cry 3 and God of War. It had solid combat and some truly difficult boss battles, but didn't include anything that necessarily put it in a league of its own. Ninja Gaiden II is more or less the same title, just with new environments, weapons, and bosses. Like the original, it's a solid, albeit flawed experience.
NGII retains all of the solid control and melee combat from the original, but it ups the gore factor substantially. Heads, arms, legs, and torsos separate from enemies bodies with reckless abandon, and most battles will end with Ryu standing in a pile of severed limbs. New to NGII are the Obliteration attacks. Once an enemy is missing a limb, you can press the Y button to activate an especially brutal attack that more often than not ends with a head flying across the screen. Each weapon features a variety of Obliteration animations, and they're all fun to watch.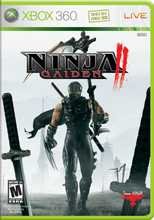 While the combat and controls are usually rock-solid, there's one enemy you won't be able to overcome using your assortment of blades the terrible camera. This was an issue in the original, and you'd think they'd have done something to fix this problem in the numerous years that have passed since its release. In wide open areas, it's just mediocre and unresponsive. In narrow corridors and small rooms, however, it seems to be actively hating you, never giving you a decent view of the onscreen action.
The often-discussed difficulty of the series is back in full form, but there's one new feature that should help significantly. Like in many recent first person shooters, you can regenerate your health if there are no enemies nearby. This feature is a godsend, and ensures you won't be spending all your money on healing items.
Bosses are huge and they use some devastating attacks, but most of these fights are an exercise in jump, jump, jump, attack. It'll take a few tries with most of them until you figure out their attack patterns, but then it's nothing more than jumping around until they're done with their animations, then jamming on Y for a while. It doesn't help that you'll have to fight many of them at least twice.
Ninja Gaiden II is certainly a pretty game, but isn't any better looking than Ninja Gaiden Sigma on the PS3. Some of the levels are pretty great looking, especially the later ones that involve rainstorms and waterfalls of blood. Weapon clashes and other sound effects are crisp and clear, and the music is pretty much exactly what you'd expect if you've played the original.
Overall, Ninja Gaiden II is an action game that surpasses the first in terms of weapons, combat, and control, but is just as bad if not worse in the camera department. I'm sure it'll be fixed in the future considering that Tecmo seems to enjoy releasing marginally improved versions of the same games every year or two.
Graphics: 8.5
Sound: 8.5
First Play: 9.0
Replay Value: 8.0
Gameplay: 8.5
Overall: 8.5