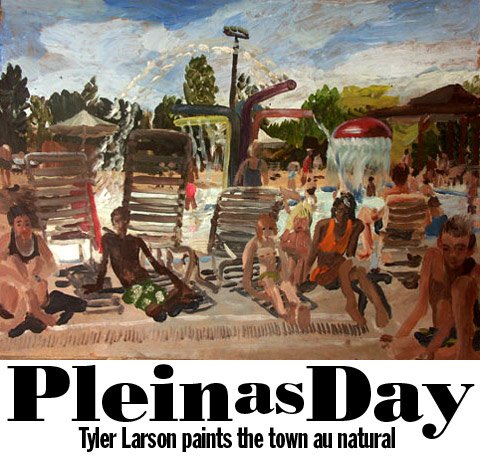 When he's not getting all multi-instrumental on your ass in at least four different musical projects about town, ranging from Quincy Quartz to Free All Beats, Tyler Larson might just be painting your ass. Larson has been focusing his brushwork on a style known as "plein air"-or "open air" for those advocates of Freedom Fries-that are single sitting oil-on-canvas snapshots of life outdoors. Hence "Plein Air Lawrence" at the Wonder Fair, Larson's upcoming show of organic portraits of Lawrence and its denizens at a gallery fittingly located beneath an organic market. Tyler Larson joined us to discuss getting hosed down, playing clarinet in Spain, and the recession-proof value of Hamm's beer.
lawrence.com: Without getting all Frenchy on us, could you describe "plein air" and how you approach it?
Larson: It's mostly just whenever I feel like I'm going to be in a good situation outdoors, or when I feel like I really need to paint I'll put myself in a good situation outdoors. Lately it's just been around friends, and it's been a development after development process-but slowly. Each season something new happens and I work with that, or some new environment comes up that carries some sort of meaning. It's also an enjoyable way for people to experience art other than in a gallery, because people are seeing it happen outside. The way I paint I try to make it really easy to tell how it was done, so it's also kind of an invite to other people to go out and make art.
Past Event
Friday, July 25, 2008, 6 p.m. to 9 p.m.
Wonder Fair: Art Gallery & How!, 803 Mass. St., Lawrence
All ages / Free
How do people generally react when they find out you're painting them?
Usually people are in the background, but if someone does become a foreground figure it happens quickly enough that they're usually out of there before I get them all on there and they don't even notice. Unless it's at the public pool, in which case kids will come and just sit for you. I did the public pool for the entire last show, so I'm not doing any more public pools. I'm doing all natural swimming. Since I left New York I've been trying to bathe outside as much as possible.
Where do you find these swimming holes? And are there tire swings?
There're a few good ponds on land belonging to friends of friends-and hoses. I need to find a good rope swing spot.
How long does it typically take to complete a "plein air" piece?
The shorter it is, the more successful it is. Then I haven't muddied anything up and everything's super clear if I get it down right the first time. So anywhere from a half an hour to an hour and a half.
Would you call it "impressionistic," or do even bother with labeling?
Photo Gallery
Tyler Larson artwork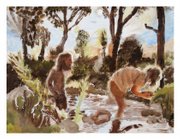 I try not to label it too much, but I'm cool with that. I just know that so many art forms have been exhausted through the centuries-especially in the last century-so I'm embracing the fact that it's already been done. I'm showing people my fun version of a take on the past.
Did you go to art school?
Yeah, I went to KU freshman year, then sophomore year in Baltimore-the Maryland Institute College of Art-but it was too expensive so I came back here to finish.
You'll be providing a "soundscape" for the opening-please describe.
It's going to be sounds from when I'm out painting with my handheld tape recorder. Other than that, it's going to be my friends' live shows from around town that I've recorded with the same microphone in a lo-fi kind of thing.
How do you feel about having a show in a grocery store? Is it cool to be able to just leave the show when you feel like getting a banana, then going upstairs and getting a banana?
After coming from New York, it couldn't sound better-that tired-ass, moneyed art world. It's just so stupid. It can be good there, too, but this is more my style. It's so much more welcoming here. You don't have to stress about it. For a band starting out here it's so easy to get shows-if you're decent-but in New York, even if you're good, you can barely ever play if you don't know a bunch of people. It's the same with the gallery world there. It's like the Berlin wall is still up.
I like the fascist imagery. What is Dream House Art?
It's a website that's mostly just a conduit for my current projects and my friend Hans' stuff. It's nice to be able to show paintings to people so far away. It's in danger because I don't have any money to renew it. It expires in, like, four days. I need to make some money.
Hopefully this show will take care of that. Did you live in Barcelona for a spell?
Yeah, it was awesome. I saved up after school and lived there as long as I could, which was only three months-played a lot of clarinet and painted on the streets.
What are you focusing on next?
People are really worried about the future and the state of things. I worry about it a lot, too, but plein air painting in Lawrence is a good escape. I think people can really relax when they check out these paintings. I'm still doing paintings for the show, actually. I haven't framed too much yet-gotta figure that out. I spent my last $5 on a 12-pack of Hamm's yesterday. »


More from Larson in this vintage blog from Tom King.
More like this story on Lawrence.com