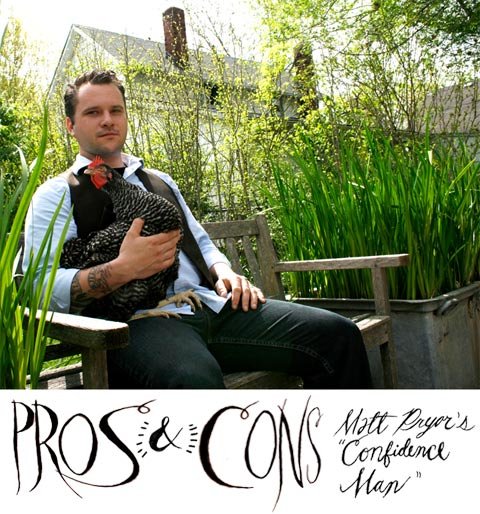 There comes a time in a man's life : a time when he turns 30. Oh, they say it is a sad day. The saddest of all birthdays, perhaps, because, for the first time in a decade, he is not in his 20s.
For Matt Pryor, this point of no return may have been particularly dismal, having fronted the popular indie act The Get Up Kids from his teenage years onward into his late 20s, and then fronting The New Amsterdams, first as a side project and then as his main thing.
Yes, he had appeared before the great David Letterman, toured the country, made clumps of cash, the list goes on-but, nonetheless, he had not been able to outmaneuver ol' 30. In the meantime, he had settled into his East Lawrence abode with his wife and three kids, 6, 4 and 1 ½.
Nights spent drinking beer on the tour bus after gigs had morphed into morning side trips through the redwoods of California. "On our way through Texas," recalls New Amsterdams guitarist Dustin Kinsey, "we stopped off in Amarillo to eat at the big steakhouse that has the 96-ouncer. Nobody went for the 96-ouncer."
And so 30 approached, and Pryor had to do something. That something turned into his first solo record, "Confidence Man." Low on teen angst and high-speed riffs, high on maturity and heart, the album comes out July 29, accompanied by a national tour. "Jerzy the Giant," the new album of The Terrible Twos, featuring Pryor and the guys from The New Amsterdams, but for kids, is out the same day.
Pryor joined lawrence.com over pints at Free State for a discussion about the road, earning his bread as a song and dance man, and the "golden handcuffs" of Lawrence life.
lawrence.com: How did "Confidence Man" come about?
Pryor: I've always wanted to do something that was just me and that's it. Every record I've ever done has always had at least one or two other people contributing to it. It was one of those things where it was like, "OK, this is something I've got to do," and I kept making excuses for not doing it:and not doing it. Finally, earlier this year, before my birthday in March, I was like, "OK, I'm 30. I've got to do this before I'm doing bein' 30." That was like the solo-record-midlife-crisis thing.
Not quite midlife:
Well, depending on how long you live. You know, the turning 30, you've-got-to-do-something-else thing.
Some of the past articles written about you have focused on moving from the rock-and-roll lifestyle to settling down with kids, trying to stay at home more. Is that what your life has been like the past few years?
I never really had the traditional rock-and-roll lifestyle, even before I was married and had a family. The Get Up Kids toured a lot and drank a good amount, but I was more the play the show, go drink beer on the bus and watch TV kind of guy. In that sense, getting married and having kids didn't change things that much.
What it really did change for me is that I didn't want to be away as much anymore. It's taken me this long since then, five years or so, to really figure out that this is part of the job. If I'm going to continue to be able to make a living playing music, then I have to travel for big chunks, but then I get big chunks off. Month on, two months off, month on, two months off, that kind of stuff. It's not my ideal, but I'm coming to terms with it, trying to make the best of it.
How is life on the road different from when you were younger?
It goes in a couple of different stages. When I first started touring, I didn't drink at all and I was the one that drove the van all the time. I was the one who loaded the gear and got everybody out of bed in the morning and all that kind of crap.
Back when you were in your late teens/early 20s?
Yeah. Then when the band got a little bigger, and we had a tour manager and all that sort of stuff, I didn't really do much of anything except play the show. And that got really boring.
Now, I try to find more things to do outside of the tour itself. We go camping or we take the scenic route, even if it adds an extra hour or two onto the drive. We try to stay off the interstate as much as possible and try to eat at the places that are interesting and see the things that are interesting. I didn't ever think of touring as anything other than work, really.
Who did you work with on "Confidence Man" and where did you record it?
I did it all myself. I recorded it and performed everything on it. I have a little studio set up in my garage. And my friend Colin (Mahoney), who mixed all the Terrible Twos stuff and the last two New Amsterdams records, mixed it. But there wasn't a whole lot to mixing it. I even took the picture on the cover.
Tell me about the album's title track.
A lot of what you get when you're in a band is people blowing smoke up your ass all the time. You get people telling you, "Oh, you're awesome. This is going to be huge!" Then one of two things happens: either it works and everybody's your best friend, or it doesn't work and they all disappear. I feel like it's a bit of a con. It's sort of a disingenuous thing.
It's kind of about that, but then I like the idea of it as a title because it sounds like I'm pulling a scam-"Of course I can do a solo record."
Continuing on the thought of people in the music industry who blow smoke-
Not all people. But they're out there.
What do you mean?
It's a culmination of several different experiences. Before I signed to Vagrant the first time, The Get Up Kids were getting courted by major labels and there were some shady, smarmy dudes that hung around. But my allegiance has been pretty set for a while.
You don't have to necessarily have it be a music industry thing. You ever had anybody in your life that you put a lot of faith in and then they just disappeared on you?
Sure.
That's kind of the same thing. Mine just happens to be part of my job.
I read a Bob Dylan interview recently in which he said, from his experience writing his autobiography, that the book industry was a lot more down to earth than the music industry.
I wonder about that, because I always figured that the movie industry was worse that the music industry, because there's so much more money to be made and it costs so much more money to get anything done. And then, also, actors.
I think the music industry is unique in that sometimes, with reviews, you get to the point where you have to not read them, because either you end up with an inflated head or you end up with this crushing self-doubt-"I suck, why do I even bother?"
The last New Ams record we did for Vagrant was called "Story Like a Scar" and the reviews were split down the middle. Either you liked it or you hated it. One review would be like, "This is the best stuff they've ever done." The next review would be like, "This is crap." Literally, that would be the whole review: "This is crap." You've just got to have a thick skin about that kind of stuff.
Tell me about the new Terrible Twos album.
Yeah, Terrible Twos record, same day, July 29. In the same vein as the last one, but more upbeat. The way I describe it is that it's the same thing as New Amsterdams songs, but it's about bugs and dinosaurs and dumb crap like that. Silly, nonsensical lyrics.
The new record is more upbeat?
The last one was upbeat, this one just has more drums in it. When we started doing Twos shows, we realized that we had better shows if we were playing fast and we could get the kids to dance. Everything with this new record is based on being able to move to it, because it just makes it easier when you play live. It's hard enough getting a 3-year-old to sit still and watch you play, but if you engage them and you're like, "OK, this is where we're going to jump, and this is where we're going to march and clap your hands," then it holds their attention a lot better.
Balancing your solo project, The New Amsterdams, The Twos, and trying to support your family, what's that like?
It takes a lot of forethought. For example, I knew I needed to finish the solo record. The Twos record was finished, as with the first one, a long time ago. It gets done and then it just sits around until it's time to put it out. I knew if I wanted to put out the solo record this summer and go on tour this summer that I needed to have it done by the first of April.
Here it is, say it's February, and you're like, OK, I have to have the record turned in with artwork by the first of April, and then I have to sit on my ass until it comes out at the end of July, and then I go on tour for five weeks at that point. And if I'm going to make any money on anything, it's from being on the road.
You have to conceptualize the whole thing at the beginning of the year to pay off anything in the middle or end of the year. You have to be one step ahead of the game. I've never been very good at it. I'm starting to finally pick it up.
With The Get Up Kids, we were always touring. It was this constant cycle, and I never really noticed that the pay structure is really weird. If you only got paid on record sales, you'd get paid twice a year. And you don't know what you're going to make twice a year because it's all based on what you've sold.
So the money you get from touring is the only thing you can count on and calculate?
You can come up with budgets based on your guarantees, but you don't really know. You just try to get the budget in the black and then go out, and hopefully you won't go out and lose your ass. It's a strange cycle. You've just got to keep doing it, keep constantly putting stuff out and keep constantly trying to do things, and then eventually, hopefully, something will stick.
What's it like for you being settled down in Lawrence? It seems some local acts become too entrenched in Lawrence, too relaxed.
I heard someone refer to it one time as "the golden handcuffs," in that it's really fantastic, but it's so easy to be here that it can keep you from doing anything else in your life. I've never really been able to make a living just off of playing in Lawrence or Kansas City. In fact, initially I couldn't make any money playing in Lawrence or Kansas City.
I tend to now think of Lawrence as where I live, not necessarily where I work. This Twos show that we're doing at the Replay will be the first paid gig I've done in Lawrence in years. And the solo show that I'm doing is at Love Garden. I really like it here and I really do support the music scene, but at the same time:I like raising a family here, but I wouldn't ever want to think of this as a big market for me. I'd love it if it was a big market for my friends coming through town, but for me, I just want to live here, go to Free State and go to the farmer's market.
Tell me about how your sound has evolved, going all the way back to when you started playing with The Get Up Kids.
It got to the point with The Get Up Kids where you kind of feel like an idiot. When you're 18 and you're jumping around like a gibbon and doing this high-energy, pseudo-punk-rock stuff, it fits. When you're 27 and you're doing that, it just feels kind of silly.
It's weird to me, because I still have that, where to me a good show is a really high-energy, lot-of-movement thing. I have to really concentrate on what I'm doing if we're going to do an intimate-sounding thing. I have to wrap my hand around the idea that you can have a good show that's quiet, as long as you play well. In that sense, it's just gotten:older.
Tell me more about what it's like being a family man and all that while being a working musician on tour.
Lately they've been kept pretty separate. It's just a lot of driving on the road. It's not so much that it's a bad environment for the kids to be in-it's four to eight hours a day in the car for a long time. It just gets hard on a little kid. You end up stopping at McDonald's, with the big play things, a lot. Then you end up eating McDonald's and you just don't feel very good about yourself after that. But whatcha gonna do? »