Brendan Hangauer
Age: 27
Sign: Scorpio
Hometown: Kansas, Georgia, California
Time in Lawrence: 8 years
Occupation: musician and Jensen Liquor employee
What were you doing when scouted? Pimpin.'
Favorite stores? Jensen Liquor.
How would you describe your style? In the summer, I dress like I'm going to the beach. In the winter, I dress like Bob Dylan circa '66.
Where do you get your hair cut? I cut my bangs myself, usually. When I want to get a real haircut, I go to Julie Noyce at the Fixx.
Photo Gallery
Style Scout: Brendan Hangauer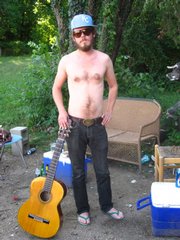 Favorite trends? Powder blue KC hats, hairy chests, and girls wearing not that much clothes.
Least favorite trends? Nerds. Backwards baseball caps. Huge boobs.
Tattoos/piercings? Hell no.
Favorite coffee shop? The Bourgeois Pig. Two words: Dusty f*ckin Bottoms.
Favorite bar? Tap Room, because it's my favorite place to play in Lawrence and Jeremy Sidener is one of my idols.
What would you like to see more of in Lawrence? Braless-ness. People with facial tattoos. More folk punk bands.
What would you like to see less of? Bras. People asking me for change. (I only look rich.)
Who are your fashion influences?
1/2 lb Ricki Lake
3/4 cup Joe Pesci
a zest of the kid from Jerry Maguire
tsp of Doogie Howser
one lock of Ray Romano's hair
1/2 lb of John Stamos (The one from Lawrence)
dash of Pizza the Hut
What are you listening to? Amelia Rodriguez and "Only Built 4 Cuban Linx" by Raekwon.
Why go shirtless? My body's too perfect to not show it off.
More like this story on Lawrence.com