Meredith Morris
Age: 17
Sign: Aries
Hometown: Valley Falls
Time in Lawrence: 3 years
Occupation: sales girl at Old World Pottery and student
What were you doing when scouted? Standing outside of work enjoying the day.
Favorite stores? Antique Bazaar II, The Dusty Bookshelf, Kieu's, and Borders.
How would you describe your style? I don't really care if things match that much. I'm also a big fan of funky heels.
Where do you get your hair cut? Absolu by Starr.
Favorite trends? Gladiator sandals....I'm big on those right now. I like dresses a lot right now. I finally gave into the big sunglasses trend. On guys, I'm still liking the plaid shorts.
Least favorite trends? I don't really like when guys wear pink or capris. I'm also not too big on mini-skirts for girls.
Photo Gallery
Style Scout: Meredith Morris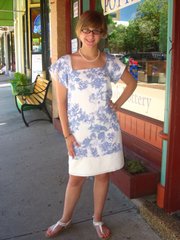 Favorite coffee shop? I don't drink coffee, but I like to go to the Global Cafe and study. I like to sit by the front window and look outside. And they have good food.
Favorite places to hang out? Sometimes my friends and I go to shows, or we hang out in Target. We also go to the movies a lot.
What would you like to see more of in Lawrence? I really like Lawrence. The people here are friendly and there aren't a whole lot of chain stores. It has a nice hometown feeling and I think it should stay that way.
What would you like to see less of? Wal-Mart, and harassment by transients when you walk by. They can get pretty intense.
Who are your fashion influences? I'm influenced really by people on the street. I try not to go with the main trends, I just wear whatever I like. My style is generally influenced by classic pieces and stuff from the 1920s, '30s, and '50s.
What are you reading right now? I'm re-reading the Twilight Series. The book I'm on is "Eclipse" by Stephanie Meyer.
Tell us a secret: Whenever I go to Target, I always have to buy a pint of Ben & Jerry's ice cream.
More like this story on Lawrence.com